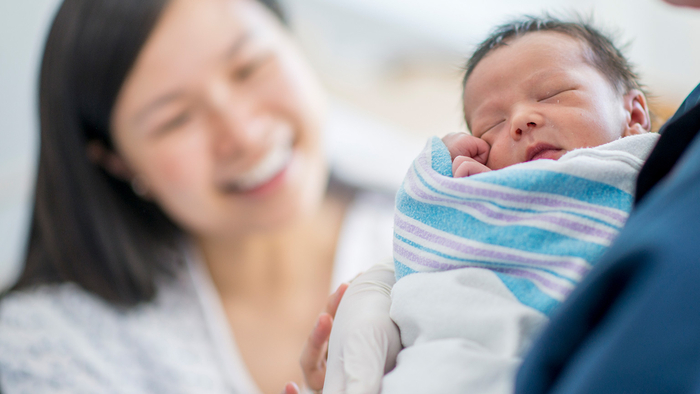 Expecting a Newborn?
During pregnancy, finding a pediatrician you can connect with is a priority. Every family has different needs, but fortunately, there's a great fit for everyone – from new parents to parents new to the area.

Following advice from Dr. Tyler Barnes, with Atrium Health Floyd Pediatrics Shorter Ave., you're sure to find the right pediatrician for your family's particular situation.
Give Yourself Enough Time
The closer you get to childbirth, the less time you have to find a pediatrician, and you don't want to rush this important decision. Feel free to start earlier, but by your third trimester, your search should be in full swing.
If you recently moved or are just looking for a new pediatrician for older children or teenagers, you'll also want to take the time to ask them their preferences. For example, some kids are more comfortable with a doctor of their same gender, which you should take into account.
Count on Reliable Resources
"A natural place to start is by asking trusted family members, friends or work colleagues which pediatrician they'd recommend and why," Dr. Barnes said. "Next, read more about Atrium Health Floyd's pediatric services and search for a pediatrician near you. It's helpful to see which providers are accepting new patients and what credentials they hold."  You can also view the pediatrician's online biography and video, which introduces you to their background and bedside manner.
Think About Convenience
Your newborn's first two pediatric office visits occur about 48 hours and two weeks after hospital discharge. After that, check-ups continue at two, four, six, nine and 12 months, so it's best to choose a practice that's easy for you to get to from either home or work. We all know that babies get sick too, and you'll want to be near your doctor's office for those unexpected situations. And if your child needs care when your doctor's office is closed, parents can visit one of our seven urgent care locations.
Visit the Pediatrician
An in-person visit with a pediatrician is always helpful. Dr. Barnes suggests setting up an expectant parent tour with the practice or practices you are interested in. "That gives you the chance to see the potential pediatricians' offices, ask questions and meet the team before your baby is born. You can schedule a tour by calling the practice."
Ask Questions
Here are some of the most important facts to consider when interviewing a pediatrician:
Credentials: Dr. Barnes recommends that families only see board eligible or board-certified pediatricians, nurse practitioners, physician assistants or family medicine providers because it means they've completed all the educational and board requirements for their field of study.
Making appointments: Determine how easy it is to schedule your child's appointments. With all Atrium Health Floyd pediatricians, parents can book online, by phone and through MyAtriumHealth.
Office hours: Find out what time the practice opens and closes each day, including weekends, and ask if a doctor is on call 24/7.
Doctor availability: You also need to know how accessible the pediatrician is. "Look for a pediatrician who'll be available to you through a variety of means, including by phone and virtual visits," says Dr. Barnes. "My patients' parents can always make an appointment to talk with me or even send me a message via their child's MyAtriumHealth account."
About Atrium Health Floyd
The Atrium Health Floyd family of health care services is a leading medical provider and economic force in northwest Georgia and northeast Alabama. Atrium Health Floyd is part of Charlotte, North Carolina-based Advocate Health, the third-largest nonprofit health system in the United States, created from the combination of Atrium Health and Advocate Aurora Health. Atrium Health Floyd employs more than 3,5 00 teammates who provide care in over 40 medical specialties at three hospitals: Atrium Health Floyd Medical Center – a 304-bed full-service, acute care hospital and regional referral center in Rome, Georgia; Atrium Health Floyd Polk Medical Center in Cedartown, Georgia; and Atrium Health Floyd Cherokee Medical Center in Centre, Alabama; as well as Atrium Health Floyd Medical Center Behavioral Health – a freestanding 53-bed behavioral health facility in Rome – and also primary care and urgent care network locations throughout northwest Georgia and northeast Alabama.