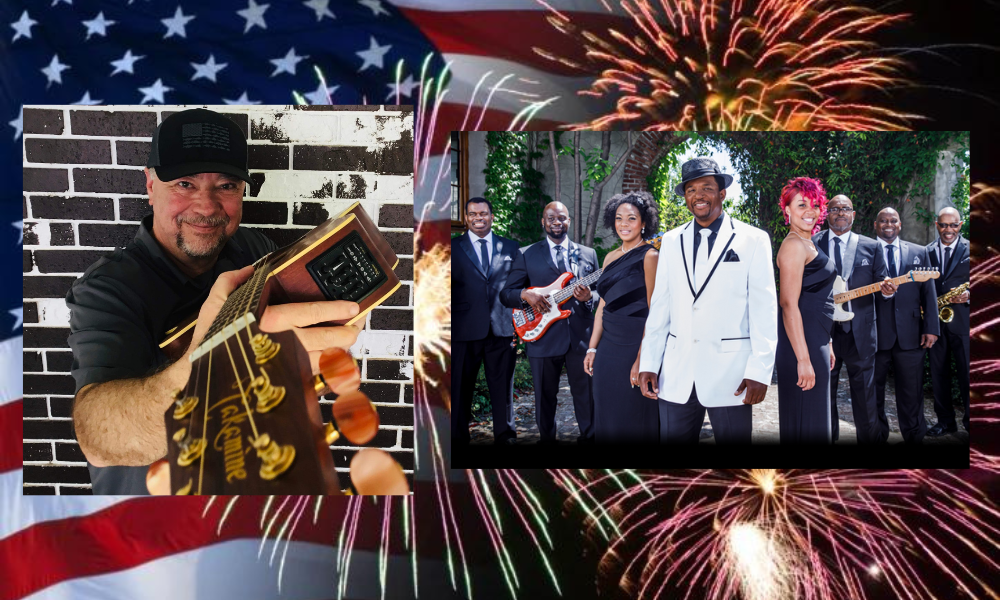 The City of Summerville proudly presents the 2023 Celebrate Independence Festival & Fireworks Show. This free community event will be held at the Chattooga County Agricultural Center on Friday, June 30. The festival and fireworks show has been a long time family affair and one of the best fireworks shows in northwest Georgia!

Festivities, Music and Food Kicks Off at 5:30PM
Families will have the opportunity to come early and enjoy the food vendors that will be on site offering a variety of foods for families wishing to picnic. Food vendors registered for this event include: Reita's Fried Pies and Homemade Ice cream, Small Town BBQ, Shonda's Edible Delights Popcorn, Ronnie Beard Roasted Corn and Homemade Lemonade, Str8 From The Sip Snowballs, Kona Ice of Rome, Taste of The South Fried Fish and More, HIS Race BBQ, Dee's Concessions Funnel Cakes, Nachos and More, and Mercy me Homemade Pork Rinds. Free sliced watermelon will be given out at the City of Summerville booth while supplies last.
This year's event will be designed for the community to experience non-stop excitement with added fun family activities. Adults and families may enjoy games such as Badminton, Frisbee, Giant Tic Tac Toe or Jenga at their own leisure. There will also be a photo opportunity/booth for event goers to take advantage of, located under the covered arena, beside the City of Summerville booth.
Kids Zone Activities
The traditional free water slide play and inflatables will be offered from 5:30 – 9:00 p.m. Kid's sack races will be offered again this year every half hour beginning at 5:30 p.m. New this year is an improved Kid's Zone, packed full of kid friendly activities for kids of all ages. Free face painting & temporary tattoos, fishing game, ring toss, bubble station, big bowling, ball throw and mini golf are a few of the free activities included in the Kid's Zone.
Patriotic Foot Parade and Best Patriotic Dressed Contest
Also new for 2023, there will be a Patriotic Foot Parade and Best Dressed Patriotic Contest for youth and adults. Line up for the foot parade and contest will be at 7:20 p.m. beside the main stage, with the parade following at 7:30 p.m. Prizes will be awarded.
Corn Hole Tournament
Registration for teams of 2 wishing to compete in the Corn Hole Tournament will be taken at the covered arena in at the Corn Hole area beginning at 5:30 p.m. Team registration will conclude at 6:30 p.m. Team registration for Corn Hole is set at $25.00 for a team of 2, with the winning team taking 60% of the pot and second place team taking the remaining 40%.
Musical Entertainment
Chip Rowland Opens Up for APB 1 st Generation Band Concert
Local musician Chip Rowland will open up on the stage at 5:30 p.m. with a variety of favorite hits from all genres of music. Chip will host a Dance Party for youth and adults from 7:00 – 7:20 p.m. to be followed by the Patriotic Foot Parade and Best Dressed Patriotic Contest at 7:30 p.m.
At 7:45 p.m. the APB 1 st Generation Band will take the stage and keep the music flowing from 7:45 -10:00 p.m. with their sounds of today's top 40 hits, Motown, and more. This band combines veteran experience with contemporary style, bringing high-energy approach to create an atmosphere of fun and excitement for this celebration. It is suggested to bring lawn chairs, blankets, and dancing shoes for this portion of the evening entertainment.
Event Parking
Attendees can access the festival at the Summerville Middle School entrance, located at 33 Middle School Road. The Summerville Fire Department, along with the Chattooga County C.E.R.T. Team will be assisting with parking. Parking for the event is free. Depending on the weather, parking may be limited.
Fireworks Show
At around 10:00 p.m. the City of Summerville will cap off the night with a spectacular fireworks show. While there will be many vantage points to view the fireworks show, the Chattooga County Agricultural Center is an ideal location. Those wishing to view the fireworks display at the Ag Center should proceed to this area well in advance for parking.
For more information, contact the City of Summerville at (706) 859-0900.