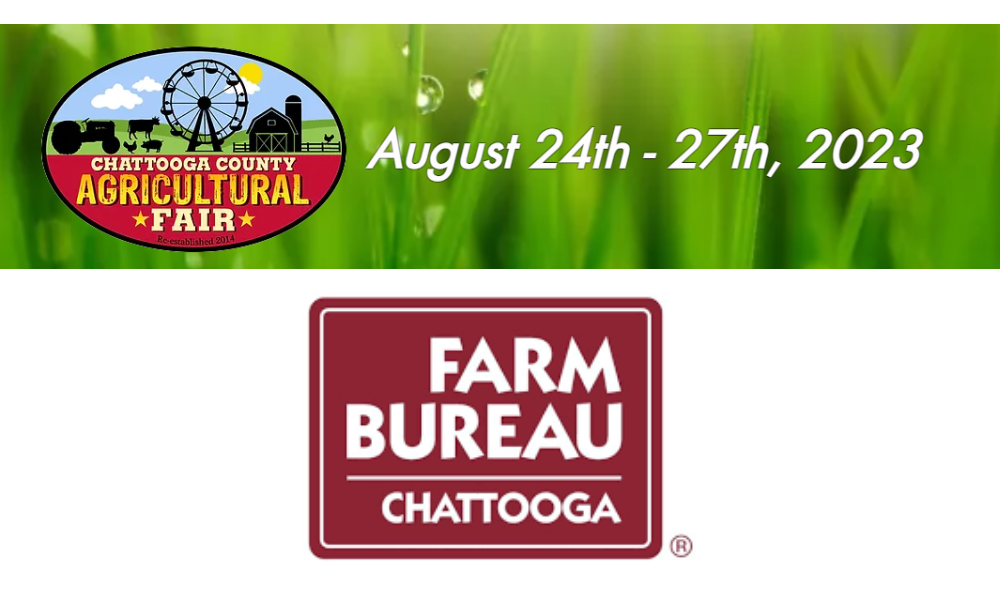 2023 Chattooga Country Agriculture Fair Demonstration Kitchen hosted by Chattooga County Farm Bureau

Thursday, August 24
5:30pm—MichaelAnn Bailey—Introduction to Linear Perspective—Don't be fooled by the word applied so many times to artists—creative.  There are ways to technically learn art.  Join Mrs. Bailey for a hands-on linear perspective lesson, a technique developed hundreds of years ago.  Supplies will be provided for use during the demonstration, or you are welcome to bring your own.  Needed:  hard back drawing tablet, mechanical pencil, kneaded eraser, ruler, (triangle and T-square are great if you have them)
7:00 pm—Chattooga Garden Club—Making and Using Rooting Boxes—Need to root a piece of Great Aunt Hortense's prize-winning rose geranium?  Please join the garden club members as they show how to build and use rooting boxes for propagating plants.
Friday, August 2
5:30pm—Christy Dean—The Craft'd Life—Polymer Clay Jewelry—Christy Dean creates super lightweight and unique earrings from polymer clay.  Join her as she demonstrates the steps in the process to create her jewelry.  She will have a variety of designs available for purchase following her demo.
7:00 pm—Stacie Marshall—Mountain Mama Farms – From her family farm in Gore, Ms. Marshall specializes in Appalachian Heritage Products such as bees wax candles, goat's milk soap, herbal salves, and remedies.  This year, Stacie will be creating a beeswax lip balm.
Saturday, August 27
2:30pm Kathy Berry – Kathy's Kane Patch – Chair seat weaving demonstration – Chair caning, or weaving, dates to the early days of China when these types of seats were reserved for the affluent, and the wooden seats were for commoners. Today, this nearly lost art can mainly be found on heirloom chairs and rockers. Ms. Berry will demonstrate the techniques that create and help restore these cherished pieces.
4:00pm Rebecca Thomas, CEC and FACS Agent— Chattooga County Extension– Home canning basics—Jams, jellies, and sweet spreads, oh my!   There are basics to follow in home canning to keep your food safe and tasting its best! Watch as Rebecca Thomas demonstrates how to correctly preserve summer in a jar.  Taste testing to follow the demonstration. YUM!
5:30pm Stephanie Yarbrough—D & S Produce and Mercantile—Cream Puff-a-palooza—Ms. Yarbrough will demonstrate the art of creating delicious cream puffs featuring products available for purchase at their store. She will also be telling about the programs and products that are coming for fallat D&S Mercantile.
Sunday, August 28
2:30pm Joy Phelan—Chattooga Farm Bureau, Master Gardeners—An Intro to Kimchi—Joy Phelan returns this year with an introduction to kimchi. Fermented vegetables to add to your diet!  Full of beta carotene and other antioxidant compounds that help reduce serious health conditions.  Step by step preparation instructions and two special tastings
4:00pm Melanie Morris—High Tech, Low Tech, No Tech Food Preservation—Join Melanie as she demonstrates ways to preserve food through dehydration processes.
5:30pm Linda Leslie and Donna Sausville–Chattooga County Farm Bureau Women's Committee—Ice Cream in a Bag—Shake, shake, shake, shake, shake, shake! Shake that baggie!  Make some yummy ice cream right inside a baggie with a tasty science experiment.