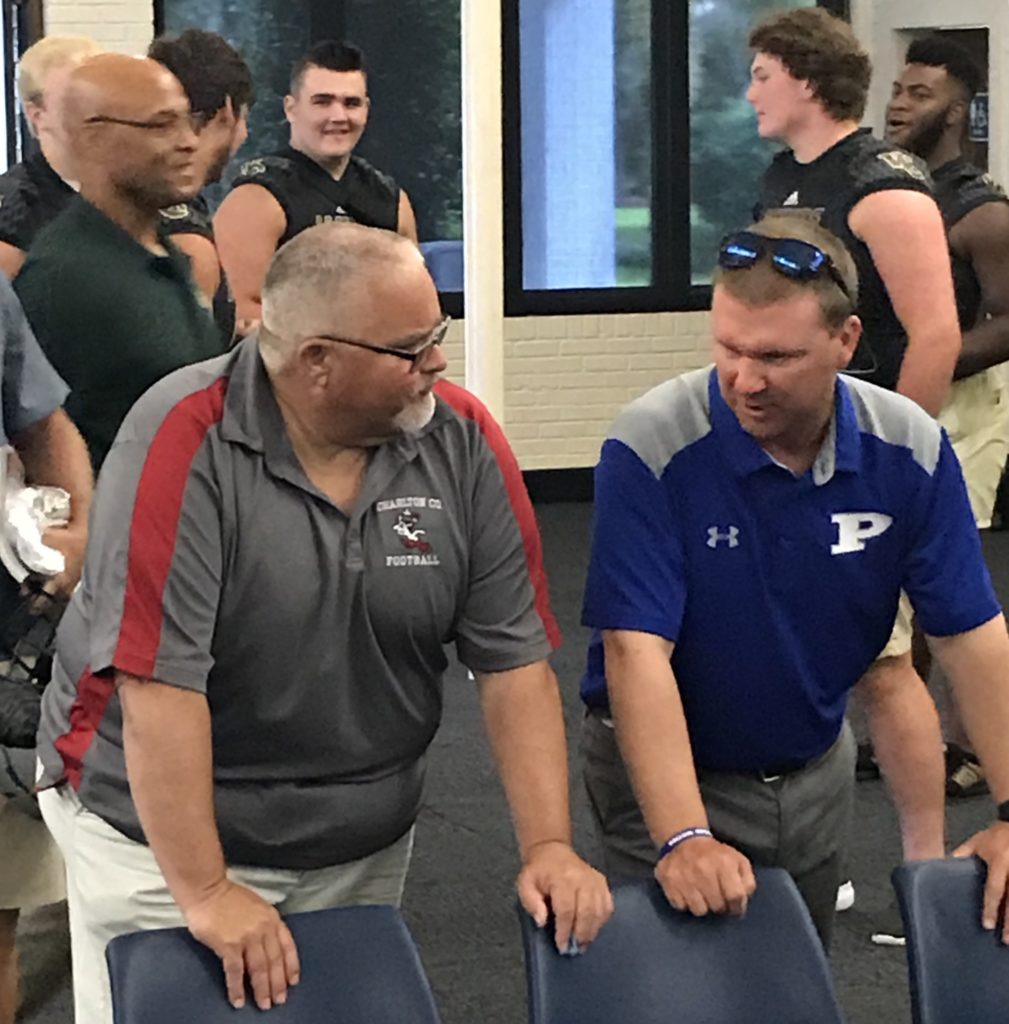 The Southeast Georgia High School Football Media Day took place Saturday at Epworth By the Sea on St. Simons Island.

The event, which was sponsored by In the Game magazine, featured coaches and players from schools both large and small that field high school football teams in this section of the state.
The media session included coaches taking the stage in groups and then taking turns speaking at the podium, providing glimpses into their respective teams in advance of the upcoming 2018 season which kicks off with the season-opening games in three weeks.
This is a capsule-look at several teams who participated in Saturday's preseason event. They are presented in the order that the coaches spoke from the podium.
Richmond Hill
Head coach Matt Lezotte got to go first on stage Saturday morning as the event kicked off shortly after its 9 a.m. scheduled start.
The Wildcats' fourth-year head coach had to leave as soon as he was finished to attend a ceremony for one of his players who was receiving his Eagle Scout Award back home.
Richmond Hill is coming off a second straight winning season as it finished 7-3 last year. The team reeled off seven wins to open the season, including a road win over Region 2-6A rival Glynn Academy, before dropping its final regular-season games to Brunswick and Effingham County.
The Wildcats then fell in the first round of the state playoffs, losing 29-21 to eventual state champion Lee County.
"Our guys are ready to play and to compete against somebody other than themselves," Lezotte said.
"We started a motto last year, 'Build the Hill,' which is really just a commitment to being the best version of yourself every day. It caught on like wildfire, and we're looking forward to this season and continuing to 'Build the Hill' in everything we do."
Richmond Hill opens the season on Aug. 17 at Grovetown.
Charlton County
Rich McWhorter would have been at the end of the line if the coaches were taking turns speaking based on their number of years as a head coach.
Instead, he was one of the first to go since he was grouped with other small-school coaches as the veteran boss of the Indians who compete in Class A.
The Indians' head coach is getting set for his 29th season in Folkston where he has compiled a 280-75-2 record while winning 15 region titles and four state championships.
"I want to thank Shawn Smoak for nothing, getting me up at 7 a.m. on a Saturday," McWhorter said with a grin as he looked to his right at the organizer of Saturday's event.
Charlton finished 9-3 a year ago and reached the state quarterfinals after a rare losing season in 2016.
With 20 seniors on the roster – one of McWhorter's largest-ever senior classes – the Indians hope to make another deep run out of the ultra-tough Region 2-A, which featured five playoff teams last year including state champion Clinch County and runner-up Irwin County.
"We also play a tough non-region schedule," the coach said. "We've got to come over here to Frederica Academy and play against those four Division I football players. Of course, Brantley County, we see their very best every year, and Coach (Rick) Tomberlin, we come to you and play the Pirates over at Appling County.
"So, it's a tough schedule football schedule we have. We had a great senior class last year that had a big turnaround from the previous year. We lost our quarterback, running back, a lot of guys. So, these 20 seniors we have are gonna have to step up, step in and replace those guys."
Appling County
Yes, Tomberlin. He's back, coming out of a second retirement to become the head coach at his high school alma mater.
The coach of 32 seasons ranks as one of Georgia's all-time winningest active coaches with 246 wins against 119 losses.
A head coach since 1983, Tomberlin has had stints at Treutlen, Jenkins, Jonesboro, Lowndes, Washington County, Valdosta, Effingham County, Calvary Day and now Appling.
He had his most success at Washington County where he won nine region titles and three state titles in 14 seasons.
"I probably retired a little too soon," said Tomberlin who stepped away from the sidelines a second time after one season at Calvary Day in 2016 which ended with a 10-1 record and a region title.
"Coaching gets in your blood. It doesn't go away. I've still got that flame burning on both ends. I feel like Coach Bear Bryant when he was at Alabama. Like he said when Alabama called, when mama calls, you come. Appling County became available when I was available, and I was anxious to go back to Baxley, my hometown, my home school."
The Pirates have not had a winning season since 2014 when they finished 8-4 and reached the second round of the playoffs.
They were 3-6 last season in their only season under head coach Jon Lindsey.
"This transition has been the best I've had in my career," Tomberlin said. "I'm excited about the season. We've got our work cut out for us, but our guys have worked hard and done everything we've asked. It's great to be back."
Appling opens the season on Aug. 24 with a home game against Vidalia.
Brantley County
Geoff Cannon is no stranger to football in this neck of the woods. The first-year head coach of the Herons spent time as an assistant at Glynn Academy and Frederica Academy in Glynn County before coaching last season at Allatoona.
He jumped at the chance to take over the Brantley program and has been on the job since January, getting to know the school, his players and all of Heron Nation.
"We've got 20 seniors, and I told them to remember this is not a rebuilding year," Cannon said. "We've got a chance to build something, and they have a chance to be part of something special and be able to come back and say I helped lay that foundation. But, we're trying to do everything we can to be as successful as we can be this year."
Cannon said his players have been committed to the process of implementing his plan since starting winter workouts after the Christmas holidays.
"I brought all the kids in my office one by one in February, and gave them a list of core values and about 40 words from which they had to choose some things they personally thought our program should stand for. The highest vote-getter was commitment. I was proud of that because in the past it had been lacking."
This summer, the Herons had 67 percent of their players complete their scheduled summer workouts, and just this week, that number rose to 80 percent as several more players completed their work with preseason camp opening at the school.
"A number of people in Brantley County said that would never happen, that kids would never get up and come in at 7 in the morning," Cannon said.
"We're gonna do the best we can with what we have, try to play physical football, try to run downhill and fly to the football on defense."
Coming off a 1-8 season after two straight 6-4 seasons, Cannon's Herons will open 2018 at Charlton County on Aug. 24.
Liberty County
The Panthers figure to be the team to beat in Region 2-AAA again this season after claiming the last two region titles.
Last season, Liberty finished 9-4 overall with a perfect 5-0 mark in league games. The Panthers played 13 games for the second straight season, losing in the state quarterfinals to eventual state champion Calhoun.
Head coach Kirk Warner said, though, that the Panthers can't rest on their laurels, knowing they'll likely get everyone's best effort this fall.
"I told our coaches we can't fall asleep," he said. "We've got to be on our A-game and make sure our players are on their A-game, too."
The Panthers return 10 of 11 starters on offense, but Warner is concerned about his defense which has spent the offseason rebuilding its front which was hit hard by graduation.
"We've put the players through the ringer," the coach said. "Hopefully, come the scrimmage on Aug. 10, we're ready to go."
Liberty kicks off the season season Aug. 24 at Bradwell Institute, the rival school that defeated the Panthers in last year's first game.
Pierce County
Head coach Jason Strickland is set to begin his second season in Blackshear with the Bears.
He led the team to the second round of the state playoffs last year before the Bears fell to Peach County which lost in the Class AAA state title game to Calhoun in a game marred by controversy.
The Bears were 5-6 overall last year while going 3-2 in Region 2 under Strickland who came to Pierce after five consecutive winning seasons at Class AA power Fitzgerald.
"I feel like we're way ahead of where we were at this point last year," Strickland noted.
Strickland said that going into last season only 38 percent of the team's players finished all their summer workouts while this year 82 percent have already completed the requirements.
"Guys are doing what we've asked," he said.
Pierce opens the season at McIntosh County Academy on Aug. 17.
Bradwell Institute
The Tigers started fast last season under their first-year head coach Ross Couch.
They reeled off six wins in the non-region portion of their schedule, but lost all four of their Region 2-6A games to finish 6-4 and miss the playoffs.
Their record, though, represented the program's first winning season since going 6-5 back in 2009 under longtime coach Jim Walsh Jr.
"The game got too fast for us at the end of last season," Couch noted. "The thing we have to do is learn to compete when things get difficult, something we struggled with last year late in the season when things didn't go our way."
The Tigers figure to be hard-pressed to win all of their non-league games this year with a beefed up slate that includes Valdosta and Wayne County.
Couch hopes, though, his team is tougher when region play rolls around this year after facing a more difficult early-season schedule.
"When we get there, hopefully we'll perform better," he said.
Ware County
Head coach Franklin Stephens did not make it to St. Simons in time to speak at the podium as the Gators had to honor a previously scheduled photo shoot that they knew might keep Stephens from making it in time to speak on stage.
But the Gators' head man did participate in the cornhole tournament between the coaches at the end of the event while doing other off-stage interviews and photo sessions.
And for what it's worth, Stephens finished second to champion Bob Sphires, the head coach at Camden County, who won the championship bout.
Remember, Stephens was the defensive coordinator at Camden when the Wildcats won their first state title in 2003.
Since then, Stephens has been the head coach at Tucker, where he won two state titles, Lamar County, which he took to a state title game and now Ware, where he is beginning his fifth season with the Gators.
Under his guidance, the Gators have won as many as 11 games twice, captured two region titles and made the playoffs every season including their 2015 run to the state semifinals where they lost to then-region rival Glynn Academy.
The Gators, now back in Class 5A, finished 6-5 in 2017, ending the season with a 10-7 second-round loss to Stockbridge.
Ware opens this season at home in the Swamp against Pine Ridge (Fla.) on Aug. 17.