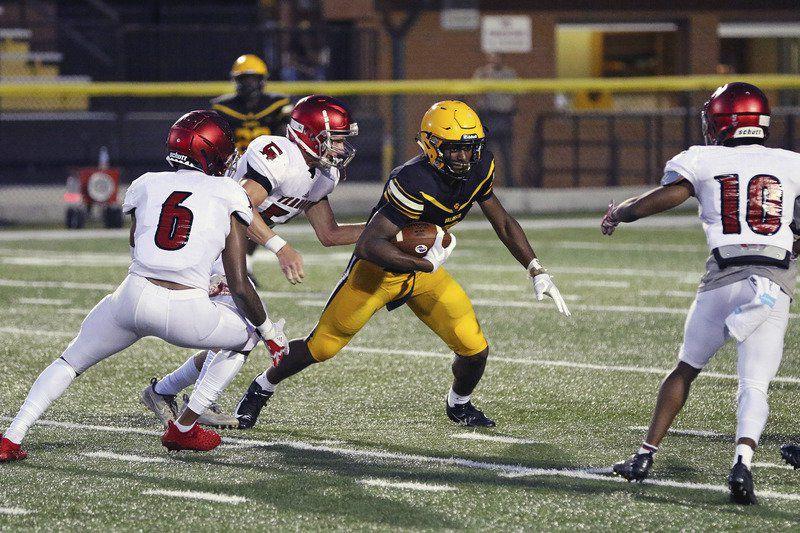 When it comes to high school football, Valdosta has a tradition that is both rich and glamorous.
The Wildcats have won more games than any prep football program in the country with more than 900 and counting.
They claim six national championships. They have won 26 state championships and 46 region crowns.
Glynn Academy coach Rocky Hidalgo reminded the media this week he drew criticism from Valdosta fans last year when he referred to the Wildcats' accomplishments as "ancient history" that wouldn't determine the winner between Glynn and Valdosta in their first-round meeting last November.
And in fact, it did not as the Terrors cruised to a 27-3 victory over Wildcats on their way to a berth in the state semifinals.
Glynn's history doesn't compare to that of Valdosta as the Terrors have only one state crown to their name with that one coming way back in 1964.
However, Glynn's history under Hidalgo includes everything but a state crown. The Terrors have won four region titles in five years. They have won five straight city championships.
And, they have advanced to the quarterfinals in each of his four seasons while making two semifinal appearances and playing for a state title in the 2015 season.
And they do have that playoff victory over the Wildcats last season for good measure.
But, the Terrors know that won't help them Friday night when Glynn (8-3) and Valdosta (7-4) collide again in a second-round game at Glynn County Stadium.
If anything, the Wildcats have the edge after rolling past the Terrors 64-26 in a preseason scrimmage game played at Bazemore-Hyder Stadium in Valdosta on Aug. 10.
The Wildcats finished with almost 400 yards of offense that night in the three quarters played between the varsity teams.
The Terrors managed 298 yards themselves including 256 on the ground, but five turnovers proved costly in the scrimmage loss.
Glynn hopes that scrimmage game isn't a sign of things to come again on Friday night.
The Terrors didn't put together a game plan specifically for the Wildcats prior to the scrimmage and they will have a much-improved defense on the field with a different linebacking corps that also includes senior EJ Thomas, a candidate for the Region 2 defensive player of the year who did not dress out for the scrimmage.
Glynn has also revamped its offense with senior Sam Wagner now at quarterback in place of sophomore TJ Lewis who is now making plays as a pass-catcher and runner for the Terrors as a starting receiver. And, the Terrors think their offensive line is better now, too.
"I think we'll be ready to play," Hidalgo said. "I know this. It'll be a football game."
The Wildcats will come to Brunswick prepared to face a better Glynn team than it did in August.
Their head coach, Alan Rodemaker, who led Valdosta to the Class 6A state title back in 2016, figured Glynn would still be in the championship mix at this point. The coach said as much to local reporters when he held court following the scrimmage game.
Now three months later, it indeed will be Glynn versus Valdosta in round two of the state playoffs.
And, it will be Valdosta's vaunted offense against Glynn's defense – the strength of the team – that will be the main attraction on Friday evening.
The Wildcats are averaging 37.9 points a game and almost 431 yards a game behind the passing of junior quarterback Tate Rodemaker and senior running back Rajae'z Mosley.
Rodemaker has thrown for 3,263 yards and 32 touchdowns while Mosley has carried for just over 1,000 yards this season.
Last week in their 70-29 rout of Lovejoy in the first round, the Wildcats racked up 685 yards with Rodemaker passing for 288 and four touchdowns and Mosley rushing for 144 and also four scores.
"They do a good job," Hidalgo said of the Valdosta offense.
"Rodemaker is a good quarterback. He puts the ball on the spot, let's his receivers go get it. He doesn't get rattled. You hit him and put him on the ground and he comes back and makes throws. He's a really good player."
Hidalgo said Glynn will have to attempt to keep Rodemaker off-balance and guessing by mixing up coverages and pressures.
"We have to try and keep him off point," the GA coach said. "Sometimes, you have to cover. Sometimes, you have to pressure. We also have to compete for balls in the air. We can't give him easy throws and touchdowns. We have to make them drive the field."
On paper, it looks like a game where Glynn should try to hog the ball and limit the possessions for Valdosta while also eating clock and shortening the game.
The Wildcats did give up 433 yards last week to Lovejoy, and the Terrors pride themselves in running the ball with their shotgun-triple option offense.
"That's our game plan every week," Hidalgo said. "We want to run the ball and play great defense, play 32 minutes instead of 48. We're not trying to win by scoring 40 or 50 points."
A high-scoring game would figure to favor the Wildcats. They have scored 40-plus points in six games and won all six. But, they have also allowed 40-plus points four times, losing all but the game against Northside-Warner Robins which they won 46-44.
"We have to play great defense and be able to run the ball," Hidalgo said. "If we don't, it'll be like LSU and Alabama. LSU played great defense, but wasn't worth a flip on offense and they got the heck beat out of them."
Glynn has won five straight games as the Terrors swept their four region games to close the regular season and then rolled past Evans 42-7 last week in the first round.
The Terrors are the top seed from Region 2 while the Wildcats are the No. 2 seed from Region 1. Their only region loss was a 63-0 defeat to Lee County, the region champion and favorite for a second straight state title.
The Glynn-Valdosta winner will take on the Allatoona-Dacula winner next week in the quarterfinals.
Glynn would be at home against either team as the Georgia High School Association's universal coin flip earlier this week designated all teams on the top line in the brackets as the home team in the event that two teams with the same seeding meet in the quarterfinals.
Otherwise, the higher-seeded team is always the host team in the playoff games leading into the state title matchups which will be played at Mercedes-Benz Stadium in Atlanta.
Kickoff is set for 7:30 p.m.