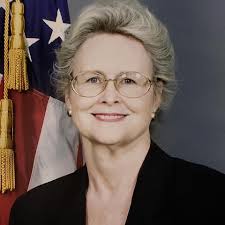 A Senator-elect from Coastal Georgia has been appointed by Governor Brian Kemp to serve on the Georgia Joint Defense Commission.
Sheila McNeil will represent Naval Submarine Base Kings Bay.
McNeil, who won in the primary election runoff in August, is a Georgia native whose record of service spans from her local community to leadership as the first and only female to serve as the national president of the Navy League of the United States. Currently, she is a region leader for the Submarine Industrial Base Conference and member of the board of directors for the National Strategic Deterrent Coalition. Because of her long history of involvement with the sea services, McNeil served as vice chairman of the executive committee for the Defense Advisory Committee on Women in the Services (DACOWITS). During her three-year DACOWITS tour, she visited forty-five U.S. military installations throughout the world. McNeil has received numerous awards, including the Secretary of Navy's Distinguished, Superior, and Meritorious Public Service medals; United States Coast Guard's Distinguished and Meritorious Public Service medals; U.S. Armed Forces Spirit of Hope Award; and the Naval Submarine League's Distinguished Civilian Award.
She is married to Arlie McNeil, a Navy veteran and longtime Navy League member and national director emeritus. They have one daughter, Leslie, and four grandchildren.
McNeil was appointed with the following:
William Ball, III will chair the commission. Currently, he serves as the director of the Governor's Defense Initiative. He is a 1969 graduate of the Georgia Institute of Technology and served thereafter as a commissioned officer in the U.S. Navy for six years of active duty. He has held senior positions in both the public and private sectors during his forty-year career. Ball previously served as a chief of staff to two former Senate committee chairmen and member of the Senate Armed Services Committee staff. Subsequently, he joined the Reagan Administration, where he served as the Assistant Secretary of State for Legislative Affairs. In 1986, he joined the White House staff and was appointed as the Assistant to the President for Legislative Affairs, and two years later, he was nominated by President Reagan to serve as the 67th Secretary of the Navy. Following the completion of the president's term, Ball became the president of the National Soft Drink Association and later formed a government relations consulting firm, Ball & Associates. He was also a member of the Defense Base Closure and Realignment Commission, to which he was appointed by President George H.W. Bush in 1991. In 2006, he accepted a two-year appointment from the Secretary of Defense to the Congressional Commission on the National Guard and Reserves. In the non-profit sector, he is a trustee and former chairman of the Asia Foundation, former member of the Georgia Tech President's Advisory Board, former trustee of the Maine Maritime Academy, and former director of the Naval Historical Foundation. He and his wife, the former Patricia Adkins of Memphis, have four grown daughters and reside in Alexandria, Virginia.
Peter Jones will represent Fort Benning U.S. Army Base. He is currently the president and CEO for the National Infantry Museum Foundation and president of PLJ & Associates, LLC. Previously, he served as the commandant of the U.S. Army Infantry School at Fort Benning's Maneuver Center of Excellence. He earned his associate's degree from Central Texas College, bachelor's degree in Political Science and Government from the United States Military Academy at West Point, master's degree in National Security Policy Studies at Georgetown University, and master's degree in National Security Policy Studies at the National Defense University. He and his wife, Stephanie, live in Columbus, and they have two sons.
Dr. Thomas Clark will represent Fort Gordon U.S. Army Base. He has served as the executive director at CSRA, Alliance for Fort Gordon and command sergeant major of Fort Gordon and the Signal Regiment from 2007-2011. Dr. Clark earned a bachelor's degree from Excelsior College, master's degree in Post-Secondary Education from Troy University, and a Doctorate of Management in Organizational Leadership from Phoenix University. He and his wife reside in Evans, and they have four children.
John Gayle will represent Moody Air Reserve Base. Previously, he served as mayor of Valdosta for eight years and did not seek re-election. He earned his bachelor's degree from Valdosta State University. Gayle and his wife live in Valdosta.
Dr. Kay Kirkpatrick will represent Dobbins Air Reserve Base. She is a member of the Georgia State Senate for the 32nd District, which includes portions of Cobb and Fulton counties. Senator Kirkpatrick serves as chair of the Senate Ethics Committee and a member of the Senate Health and Human Services, Insurance and Labor, and Veterans, Military, and Homeland Security Committees. She is also a member of the Commission on Family Violence and legislative liaison to the Commission on the Holocaust. Senator Kirkpatrick has been an orthopedic hand surgeon for over thirty years. She graduated from the University of Kentucky and University of Louisville School of Medicine. She and her husband, Tom, have two adult children.
Henry Childs will represent Robins Air Force Base. He is a retired military colonel veteran and has served as pastor of North Bethlehem Missionary Baptist Church. He earned his bachelor's degree from the University of Georgia, master's degree from Webster University, and doctorate from Walden University. Childs and his wife, Vivian, live in Warner Robins, and they have three adult children and nine grandchildren.
Justin Strickland will represent Marine Corps Logistics Base. He is the director of economic development for OmniTRAX, Inc., and he previously served as president of the Albany-Dougherty Economic Development Commission from 2007 to 2020. He earned his bachelor's degree in Marketing from the University of Georgia and is a certified economic developer from the International Economic Development Council in Washington, D.C. Strickland and his wife, Rebecca, have two children and live in Albany.