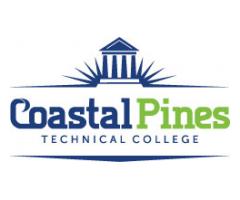 Fall semester started back on Monday, August 19, 2019, at Coastal Pines Technical College (CPTC) with another semester of enrollment growth! This 2019 Fall Semester makes the tenth consecutive semester Coastal Pines Technical College has achieved an enrollment increase over the same semester the previous year. This fall semester also signifies the highest enrollment in the history of Coastal Pines Technical College.

With 4,205 students enrolling in fall classes, CPTC enrollment increased 735 students (21.18%) over fall of 2018. Included in these totals is a significant growth in the Dual Enrollment program at Coastal Pines. That program saw an increase of over 580 students from the previous year's fall semester with a total of 2,397 dually enrolled students.
Coastal Pines' President Dr. Glenn Deibert stated, "Although the unemployment rate has been at record low levels, we are seeing a lot of individuals returning to College to not only upgrade their skills but also to learn new skills to be able to advance in their careers. In addition to growth in our traditional adult population, we are also seeing record enrollment in our popular high school dual enrollment program as well."
Coastal Pines Technical College has a thirteen-county service delivery area (SDA) covering 7,433 square miles, which is the largest SDA in the Technical College System of Georgia. With seven instructional sites, nineteen adult education sites and dual enrollment opportunities with sixteen high schools, CPTC is able to conveniently offer courses to meet the needs of any student. CPTC is widely known for a 99% job placement rate overall, as well as a 94% job placement rate in the field of study. With upwards of 140 programs available, students have countless opportunities to complete a degree, diploma or certificate in as little as eight weeks to two years. CPTC offers more than 90 tuition-free programs through the HOPE Career Grant, as well as access to scholarships and grants through the CPTC Foundation. Online, night, and weekend classes are available for the working adult.