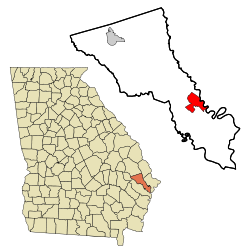 Georgia Man Pleads Guilty To Using The Internet To Attempt To Entice A Child To Engage In Sexual Activity
Douglas Scott Phillips (52, Richmond Hill, Georgia) has pleaded guilty to using the internet to attempt to entice a child to engage in sexual activity. Phillips faces a minimum mandatory penalty of 10 years, and up to life, in federal prison, and a potential life term of supervised release.


According to court documents, on November 15, 2018, a detective from the St. Johns County Sheriff's Office engaged in an online undercover operation to identify individuals seeking to meet children for sex. The detective posted a notice on an online bulletin board using the fictitious persona of a "mother" with "a young 11-year-old daughter." Phillips responded to the notice and confirmed the age of the "daughter." Phillips indicated that he was "very interested" and sent the "mother" an explicit photo of himself.
Over the next two months, Phillips and the undercover officer had several online conversations in which Phillips expressed his desire and intention to engage in sexual activity with the "child." During the conversations, Phillips instructed the "child" how to masturbate and sent pornographic photos illustrating how to do so. Phillips stated that he wanted to teach the "child" about sex in person. On January 7, 2019, Phillips told the "mother" that he was "serious about making this [meeting with the "child"] happen" and confirmed that he had texted with the "child" about masturbation.
On January 18, 2019, Phillips was arrested at his home in Georgia. During an interview, Phillips admitted seeing the advertisement and following up "just to see what it was." He also admitted to engaging in sexual conversations with the "mother" and sending explicit pictures of himself to the "child."
This case was investigated by the St. Johns County Sheriff's Office, Homeland Security Investigations, the Liberty County (GA) Sheriff's Office, and the Bryan County (GA) Sheriff's Office. It is being prosecuted by Assistant United States Attorney D. Rodney Brown.
This is another case brought as part of Project Safe Childhood, a nationwide initiative launched in May 2006 by the Department of Justice to combat the growing epidemic of child sexual exploitation and abuse.