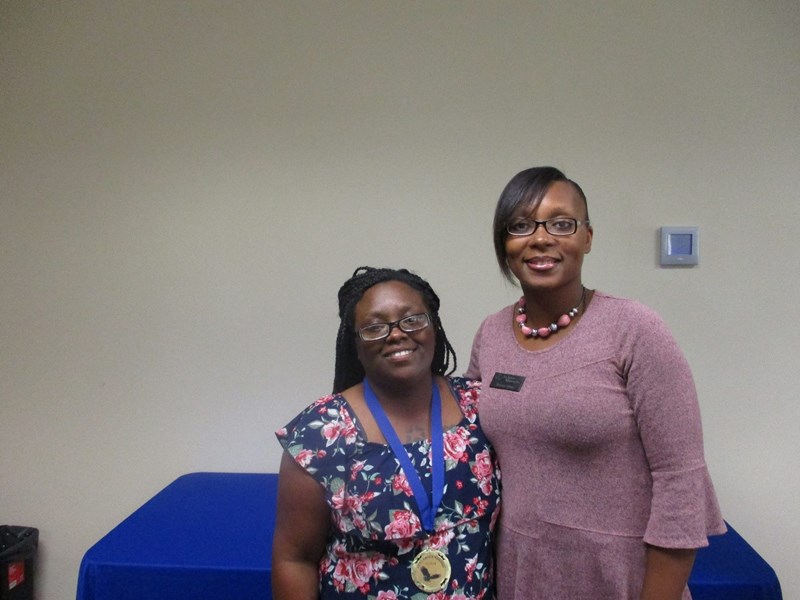 Marlena Ates is a twenty six year old, mother of five who is working hard to support herself and her children.  Marlena enrolled in the Workforce Innovation and Opportunity Act (WIOA) Youth Program in 2016 to receive assistance with obtaining her General Education Diploma (GED).   Marlena participated in WIOA work experience at Coastal Pines Technical College Adult Education Program while attending GED classes in Jeff Davis County.
​Marlena states, "The WIOA program has helped me in numerous ways. I learned interview presentation skills, professionalism, customer service skills, and Microsoft Office programs. Thanks to my Adult Education instructor and the WIOA Program for all of these opportunities."  Marlena graduated from the Adult Education Program in March 2018 and is currently attending Coastal Pines Technical College to obtain a degree as a Health Care Assistant. Marlena is also employed at CPTC as a part-time custodian on the Appling and Jeff Davis Campuses. Her goal is to further her education in Health Care and one day become a Registered Nurse.
​Marlena was nominated as the – Jeff Davis County delegate for the CPTC 2018 Exceptional Adult Georgian in Literacy Education (EAGLE). The Exceptional Adult Georgian in Literacy Education (EAGLE) Program is a statewide award program that recognizes students who have demonstrated exceptional achievement in adult education classes. Teachers nominate students from their local program based on character, attitude, attendance, leadership and community involvement and activities. Each local program selects one student from the nominees to receive the EAGLE award for their program. The local award recipient is recognized at the state EAGLE Leadership Institute. This event provides professional development sessions focused on leadership and life management skills.