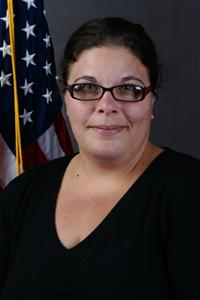 The Camden County Board of Commissioners has announced that County Clerk, Katie Bishop, has been elected to a two-year term as President of the Georgia County Clerks Association (GCCA).
"We are so pleased that Katie is being recognized by her peers with this leadership role," said Camden County Administrator Steve Howard. "She has effectively served Camden County in her role as County Clerk, and we are excited that she has this opportunity to lead her association."
In this role, Mrs. Bishop also serves on the 2020-2021 Board of Managers for the Association of County Commissioners of Georgia (ACCG) as the President of the County Clerks Section. The GCCA was organized more than 50 years ago to create a coordinated interest among County Clerks and their Boards of Commissioners in county affairs and to promote the welfare of county government in general.
Mrs. Bishop began working for the Camden County Board of Commissioners in 2005. She is a Certified County Clerk through the Carl Vinson Institute of Government's Georgia Clerks Education Institute Certificate Program and is currently working on her Masters Level Certification. This program is jointly sponsored by the GCCA and the Georgia Municipal Clerks Association