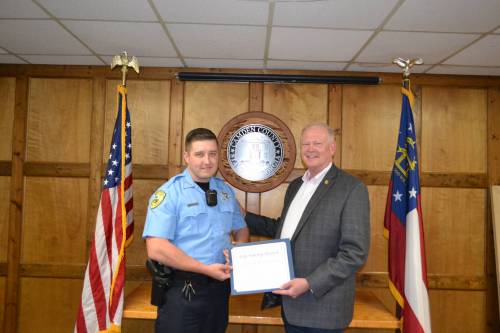 A Camden County Sheriff's Deputy has been awarded a Lifesaving Award.
Camden County Sheriff Jim Proctor recently presented a Lifesaving Award to Deputy Brandon Todd at a ceremony recognizing Deputy Todd's action on December 16th, 2019.
Deputy Todd was on patrol in the area of The Magnolia Inn and Suites in Kingsland, Georgia when he was advised by 911 Dispatch that a call had been dispatched to the
Kingsland Police regarding a female that was not breathing. Deputy Todd was able to
arrive on scene first and determined that the female motel employee was not breathing,
and did not have a pulse. Todd began CPR and was joined by arriving Kingsland Police Officers Daniel and Leach.  The three law enforcement officers worked together
doing CPR which provided lifesaving measures saving the life of the victim.

Sheriff Jim Proctor said "I am truly honored to present this award to Deputy Brandon
Todd.  If it were not for the actions of Deputy Todd and the two Kingsland Officers the
victim would have died from the massive heart attack she suffered.  The actions by these
peace officers represents how agencies working together benefits the citizens and visitors
of our community.  I am pleased to present this award to Deputy Brandon Todd on behalf
of The Camden County Sheriff's Office."