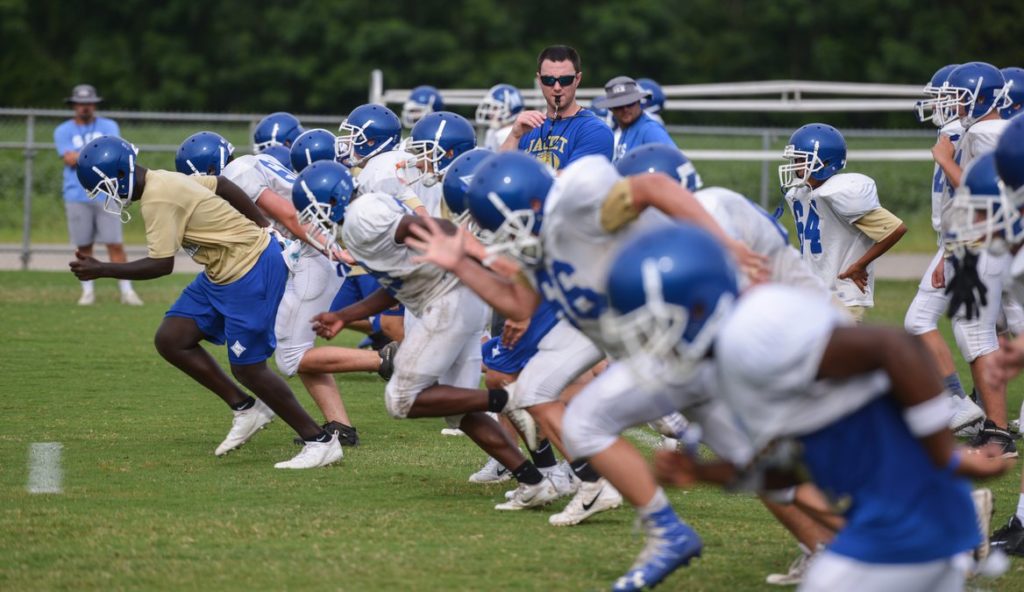 Barrett Davis put his players at Southeast Bulloch through the rigors this past spring and summer, and the work the Yellow Jackets put in all those weeks has paid off already for the team on the playing field.

The Jackets are off to a 3-0 start in their first season under Davis, also a first-year head coach, and the players have attributed their early success to the time they put in on the field and in the weight room since Davis took over the program in February.
Davis credits the players for their dedication and commitment and willingness to accept his coaching methods.
"We've got a good group of kids. I walked into a good situation," he says. "But, we did a little more in the summer than they had done in the past. We lifted a lot of weights, went to some good camps and faced good competition and got a lot of on-field work done."
That work has paid huge dividends already for the Jackets who have pulled out close wins in each of their three games including a come-from-behind 24-21 victory last Friday at home over Islands in the first Region 3-AAA game for both teams.
Also, the Jackets opened the season with a 28-21 upset of Screven County which was ranked No. 10 in Class AA to start the season. They also won the following week at Tattnall County by a 28-21 tally.
On Friday, Southeast Bulloch was to take on Savannah in its second region game at the new Memorial Stadium in Savannah, but the game was postponed due to weather concerns related to Hurricane Florence. The meeting between the Yellow Jackets and Blue Jackets was to be the first game played at the new stadium. It will now be played at a later date.
"I know what are kids are capable of, so I haven't been surprised by our start," Davis said. "We showed some flashes of this in the summer, so I knew it was just a matter of us putting things together.
"I still don't think we've done the best we can do. Our kids have played good football, but we're capable of doing even better."
Davis is hoping to build a formidable program at Southeast Bulloch which hasn't won a state playoff game since the 1973 season and has won more than seven games only once since going 11-1 and winning a region championship in the 1993 season.
Davis looked into several head coaching jobs in recent seasons and jumped on the opportunity to accept the head post with the Jackets when an offer was made.
"I applied for a few jobs the last couple of years and waited on the right fit. This was one of those that was a good fit for me," he said.
Davis was familiar with Southeast Bulloch before he became the school's football coach.
He attended Georgia Southern as a college student and was a member of the school's baseball team. But as an education major, he spent time student teaching at the high school and got to know faculty members and coaches who are still at the school now.
His wife, who he met at Georgia Southern, was excited about the opportunity to return to the community as well.
In addition to coaching football, Davis is serving the school as a special education teacher while also teaching weight lifting classes as part of the physical education department.
Davis is from Augusta and attended Harlem High School where he played both football and baseball. He started his coaching career at Burke County where he was an assistant baseball and football coach.
Davis moved to Lakeside after five years with the Bears to become the defensive coordinator for the Panthers. Davis spent four years with the team before being offered his current position at Southeast Bulloch.
Davis said he learned a lot about coaching football under Burke coach Eric Parker who has led the Bears to seven region titles and a state championship since becoming the team's head coach in 2007.
"A lot of what we do is very similar to what they've done at Burke County and also what we did at Lakeside," Davis said.
"So, I've taken bits and pieces of his philosophies and put them with mine and what we feel we need to do as a coaching staff. We try to keep it simple, really. We don't want our kids to have to do a lot of thinking. We want them to play fast and physical."
The Jackets have done that in their first three games while willing themselves to victories especially the one last week against Islands which has a couple of major college prospects on its roster.
"We've started slow, and we've been a second-half team," Davis said. "Our kids have done a good job making adjustments and they've fought hard in the fourth quarter. That was the difference in the past two games.
"I just think they've been hungrier than the other team and have wanted it more and have fought until the final whistle. They've been determined not to lose a football game."
The Jackets have been led offensively by junior running back Jamari Daniel who has carried for more than 400 yards in three games and senior quarterback Blaize Minick who is improving by the game, Davis noted.
Also, Tyler Bailey has played well as a receiver, safety and kick returner for the Jackets.
Davis said he is looking forward to the rest of the season and the future for the Southeast Bulloch program.
The current roster features 19 seniors and a large junior class the team can build around next season as it develops the younger players in the program, too.
"You have to set yourself up for the future and be able to sustain the program," Davis said. "You've got to set the tone, set a routine, get everyone doing that routine and then you get the next group ready to play and hopefully be successful."