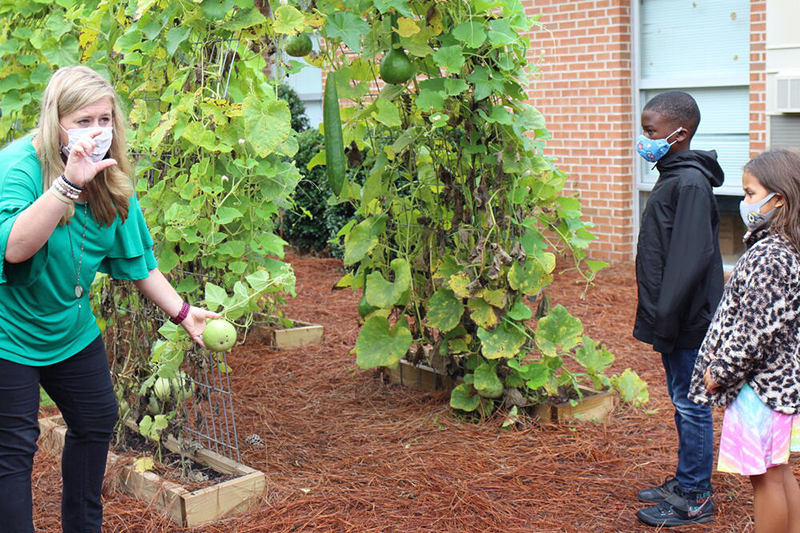 Stilson Elementary School's STEM (science, technology, engineering, and mathematics) teacher and students are learning more than one would expect with gourds.

A teacher's trip to a gourd farm in North Carolina five years ago sparked what has become a favorite learning experience for Stilson Elementary School students.
Jenny Hendrix, Stilson's STEM Lab teacher is growing rural education using gourds. Fueled by a $1,000 grant from the Bulloch County Foundation for Public Education, Hendrix cultivates practical science, math, and agriculture lessons from the various types of gourds she and her students now grow at the school. She also collaborates with the school's art and music teachers, Erin Henry and Rachel Thompson, to add a fine arts focus.
The gourd project is introduced each year to third-grade students who begin by preparing the school's two gourd tunnel trellises, planting seeds, monitoring the weather and the gourds' growth cycle, and learning about the hard-skinned fruit's different varieties and their past and present uses. They grow Swan, Loofah, African Canteen, African Bushel, Snake, Apple, Birdhouse, Long-neck Dipper and Martin gourds. When students advance to fourth grade they take their harvested gourds and fashion them into works of art, birdhouses and musical instruments in their art and music classes.
Stilson, an unincorporated community, on U.S. Highway 80 between Statesboro and Savannah, grew from a station along the former Savannah & Statesboro Railway. Stilson has a rich agricultural history, and Hendrix, who went to school here and still lives nearby, has a passion for weaving history and the importance of agriculture into her lessons.
For instance, three years ago, to teach her students a unit on technology, she taught them how it can be used to preserve history through documentary filmmaking.  Her students partnered with Georgia Southern University's College of Liberal Arts and Social Sciences to collect and film oral histories about Stilson and the 84-year-old log cabin that sits on the back corner of the elementary school. Watch the film here.
Believed to be the last of its kind, the historic landmark was built in 1937, and was funded by President Franklin D. Roosevelt's depression-era Works Progress Administration relief program. Its original purpose was to be a community resource for meals during the depression and other former uses chronicle the changing needs of the school district and community.
Each of Bulloch County School's nine elementary schools has a STEM lab which serves as an exploratory class, just like art, music, and physical education, in which all pre-kindergarten through fifth-grade students rotate each week.  The school district's four middle schools also have STEM labs as an elective course, and at the high school level, STEM is infused into specific applicable courses.
---
Bulloch Schools