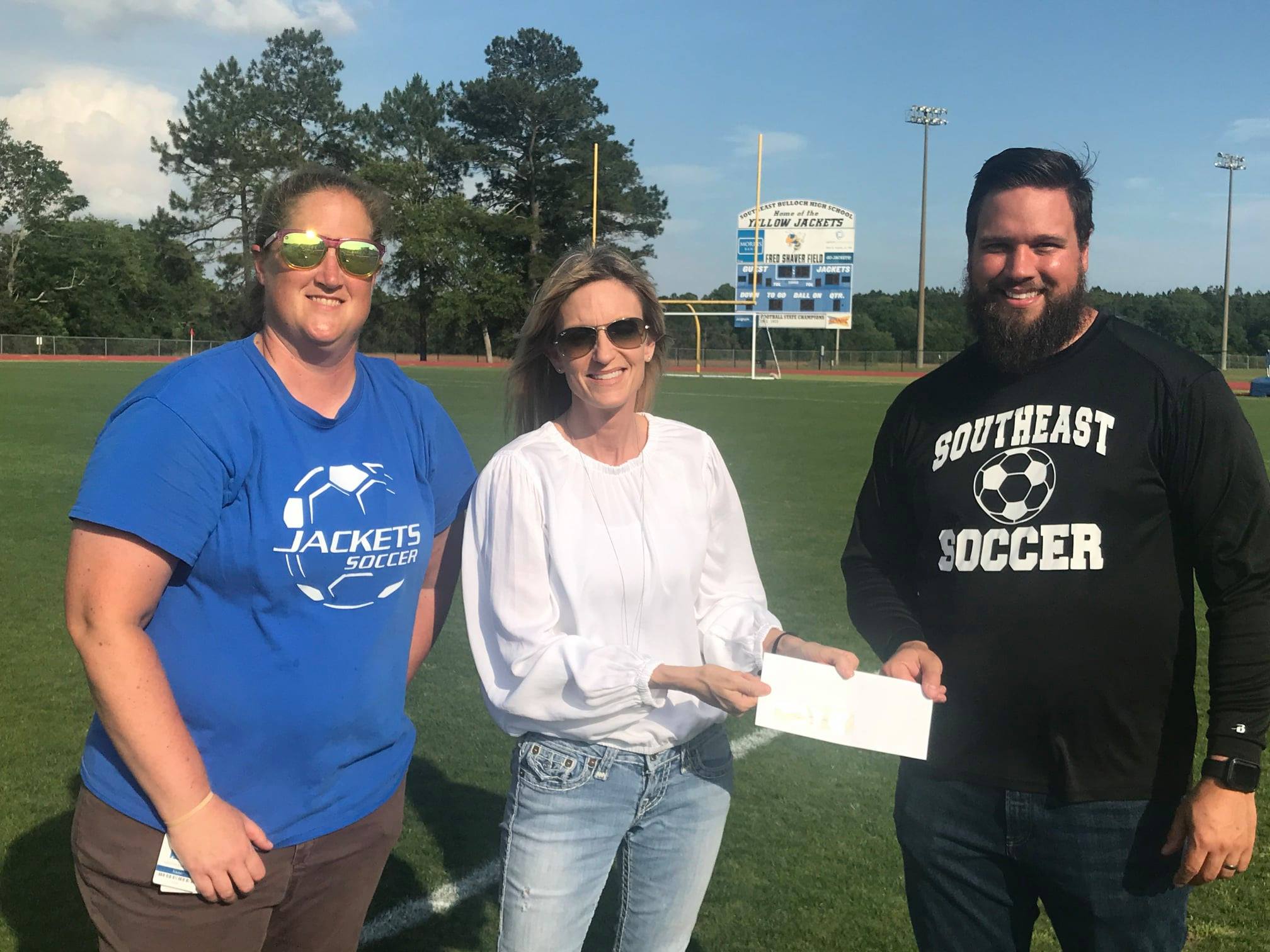 The varsity soccer teams at Southeast Bulloch High School have made a generous donation of $3,400 to Safe Haven of Statesboro. The boys and girls teams made the donation on May 4 at Fred Shaver Field in Brooklet, just prior to the girls' Georgia High School Association state quarterfinals match against Westminster Schools of Atlanta.

"On behalf of Safe Haven and all of the domestic violence survivors and families that we serve, strengthen and support, I'd like to extend our immense gratitude to Coach Barnhill and Coach Simonin for helping to instill such depth of character into their student athletes and our youth," said  Tia Adams, the non-profit's executive director.
The Southeast Bulloch varsity soccer teams voted at the beginning of the school year to donate all of the gate receipts from their seasons' home games to Safe Haven, a local, non-profit in Bulloch County, whose mission is to end the cycle of family violence through prevention and education programs. During the global COVID-19 pandemic, law enforcement and family support organizations in Bulloch County, Georgia, and the nation have noted the marked increase in domestic violence and abuse. Safe Haven serves, strengthens, and supports victims and children of domestic violence through the provision of emergency and community-based services.
Along with the ticket sale donations, the teams also hosted a supply drive at one of the home games where individuals could donate paper products in place of paying admission.
"The paper products were very much needed," said Adams. "This, plus the donation, is simply amazing."
Coach Jared Simonin, the boys' team coach, and Coach Kristen Barnhill, the girls' team coach, collaborated on the community service project after athletes chose to assist Safe Haven.
"Our athletes wanted to help Safe Haven due to the influx of victims the organization is likely facing," said Coach Kristen Barnhill. "I think it's important to show young people how beneficial it is to give back to the community and, in this case, also allow the girls how to become aware of the warning signs of domestic violence."
Barnhill makes community service a part of her soccer teams' focus each year.  She believes that it's important to prepare student athletes to not only use their skills on the field, but how to use their time and talents to serve others in the community. In the past, her teams have also worked with Relay for Life and Bulloch County's food banks.
"These are clearly great students, talented athletes, and life-changing contributors to the individuals and families served by Safe Haven and our community," added Adams. "Thank you for using your precious time and talent to change the story for those plagued by domestic violence. Safe Haven is forever grateful."