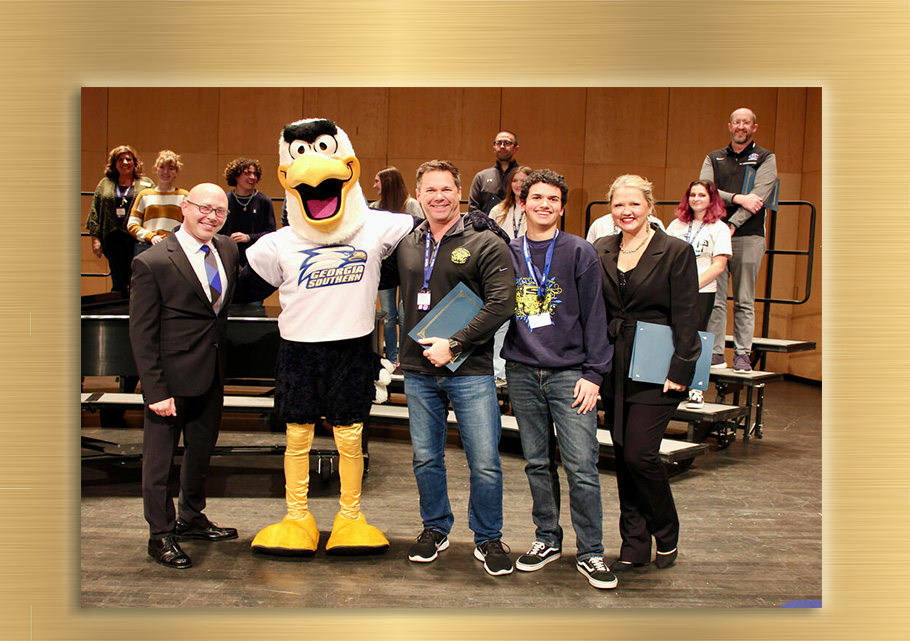 Southeast Bulloch High School's Advanced Chorus earned the top honor this week in the Mixed Choir category of the Southern Invitational. The event, which is held at Georgia Southern, is a high school choral competition and music festival that offers vocalists competition, career possibilities, and more.

Southeast Bulloch High School's Advanced Chorus was selected as the first-place winner in the Mixed Choir category of the Southern Invitational, a high school choral competition and music festival held at the Foy Music Building on Georgia Southern University's campus in Statesboro on November 8-9.
The invitation-only event for virtual, mixed, and non-mixed choirs was the first time the school's nationally-acclaimed chorus has been able to compete in nearly two years due to restrictions imposed during the COVID-19 global pandemic.
Fifteen choirs from across the area were invited to showcase their talents, including seven in the mixed choir category. The Advanced Chorus performed two musical selections for the competition: "I Am Not Yours," by David C. Dickau, and "Nyon Nyon," by Jake Runestad. Southeast Bulloch's choral operations are directed by Brent Whitaker.
"Music is truly a way of life for us here at Southeast Bulloch High School, and we are striving, every day, to provide a top choral music education experience for our students," said Whitaker, who was quoted in the event's program.
The Southern Invitational was organized and hosted by the Fred and Dinah Gretsch School of Music at Georgia Southern and directed by two of its professors, Shannon Jeffreys, DMA, and David W. Langley, Ph.D.  During the two-day event, participating vocalists benefitted from a campus tour, various recitals by the university's vocal students, information about careers in music, vocal master classes by university music professors, an All-State Chorus workshop for soloists preparing for the competition, and adjudication and input from event clinicians.
This year's guest clinicians were the following: Adam Potter, Ph.D., the director of choral activities and associate professor of music at Roberts Wesleyan College in Rochester,  New York; Dominique Petite, DMA, a visiting assistant professor of choral music education at Ohio University; and Joshua Cook, DMA, the Director of Choral Activities at both Allen D. Nease Senior High School in Ponte Vedra Beach, Florida, and Tocoi Creek High School in St. Augustine, Florida. Read more the activities and choirs in the event's program.
The 44-member Advanced Chorus is the premiere ensemble of the school's three vocal groups which also includes Women's Choir and Concert Choir. The choral program has multiple performances during the holiday season, including a concert at Pembroke First Baptist Church on December 12, at 6 p.m., and their annual winter concerts at the school on December 15 – 16, at 7 p.m., which are free, but require a ticket due to limited seating. Doors open for ticket holders beginning at 6:15.
---
Bulloch Co Schools