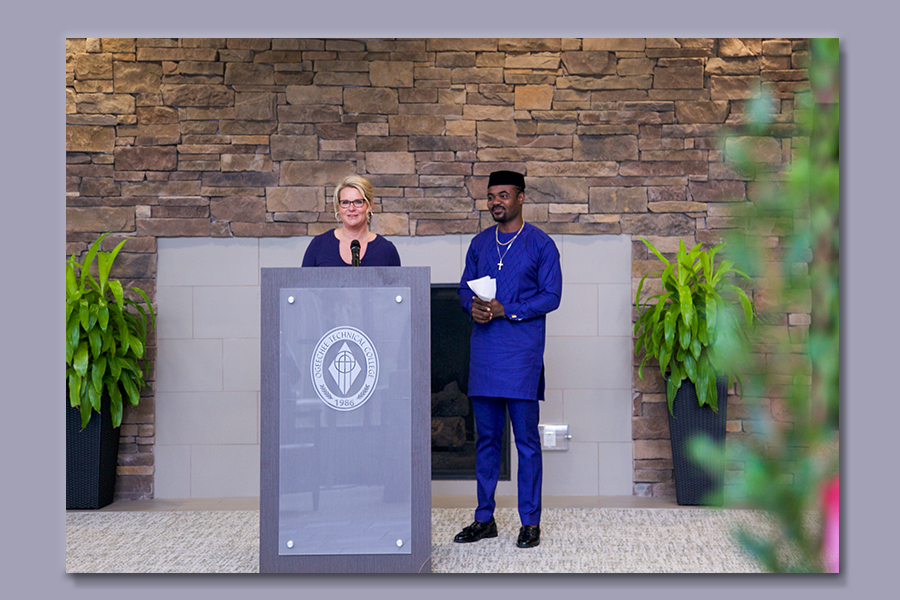 Ogeechee Technical College's 2022 Dinah Culbreath Wayne EAGLE delegate, Chris Igwe, was honored this week by friends, family, and OTC faculty and staff, as he prepares to travel to compete in the state competition in Atlanta.

The 2022 EAGLE (Exceptional Adult Georgian in Literacy Education) Leadership Institute, a three-day event held March 14-16, recognizes and honors students who have demonstrated superior achievement in adult education classes and programs, and provides them with sessions to develop leadership skills.
Chrisanctus "Chris" Igwe, a native of Nigeria, moved to the United States in hopes of furthering his education and bettering his life. It was here that he was first introduced to the Adult Education program and Ogeechee Technical College.
"My wife and I began searching for a miracle that would enable me to accomplish my goals and dreams for a new life. My dream is to graduate with an academic degree, obtain a good job to support my family, and to become an influential leader and preacher of the gospel in this community," said Igwe. "OTC and the Adult Education program have brought me hope of accomplishing this."
The eight EAGLE finalists will be announced on Monday, March 14 and the state winner will be announced prior to the conclusion of the institute on Wednesday. Igwe will be attending the conference along with OTC President Lori Durden; Samantha Smith, Dean of Adult Education; and select members of the Adult Education staff.
"I know I say this every year, but I truly believe Chris will be this year's state winner," said Dean Smith. "Having heard and seen from him the hurdles he's had to overcome to get to where he is today perfectly represents why he's the ideal delegate for Adult Education across the state."
---
OTC