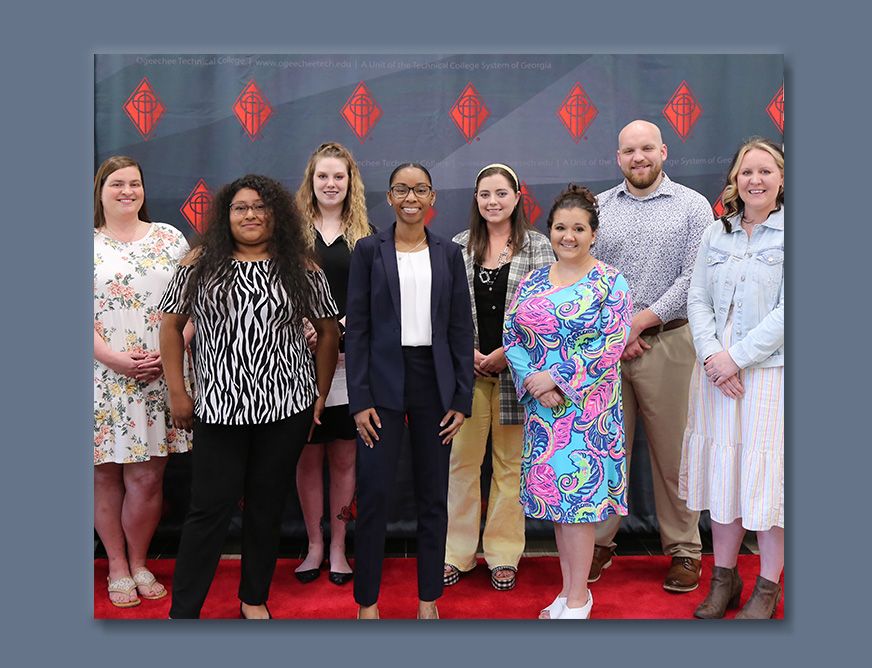 The National Technical Honor Society at Ogeechee Technical College (OTC) recently hosted its annual spring induction ceremony in the Joseph E. Kennedy auditorium at the College.


Eleven new members who achieved and maintained at least a 3.5 grade point average, and who received recommendations from their instructors, were inducted into the organization and received their official NTHS portfolios.
Club advisor, Lisa Lanier introduced the new officers and began the candle ceremony to symbolize the seven attributes of the NTHS: skill, responsibility, honesty, scholarship, leadership, service, and citizenship.
"This semester our NTHS members co-hosted an OTC Blood Drive that collected over 20 units and will be sponsoring an Ice Cream Social for their fellow classmates during finals," said Lanier. "Not only do our students excel in the classroom, but they are motivated to give back to their community."
The National Technical Honor Society is dedicated to recognizing excellence in career and technical education.  Its mission is to honor student achievement and leadership, promote educational excellence, award scholarships, and enhance career opportunities. Students inducted into NTHS must have completed 20 semester hours or more and have maintained a 3.25 cumulative GPA or higher in addition to other criteria.
To date, NTHS has awarded nearly 3 million dollars in scholarships through its own Jon H. Poteat scholarship, through partnered career tech student organizations, and through an incredibly generous alumni association.
---
Ogeechee Technical College