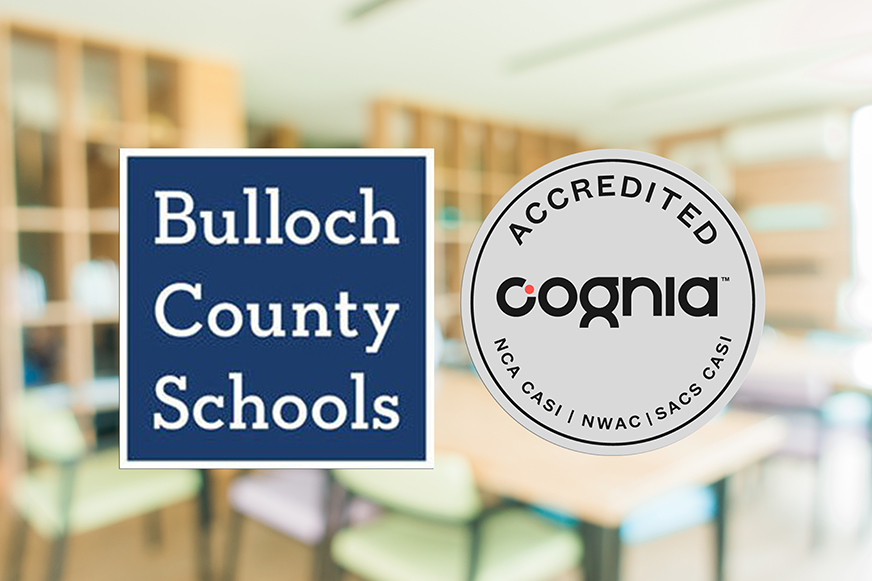 Cognia (formerly AdvancEd) has approved a five-year extension of Bulloch County Schools' international accreditation, which will now be valid through 2027.


The school district was given high marks for its culture, collaboration, and innovative and responsible use of resources, all of which helped lead to an overall review rating higher than the national average.
"This report reflects our journey over the past 10 years; although this was a five-year review, it is a culmination of our ten-year journey which has led us to this point," said Charles Wilson, superintendent of schools for Bulloch County.
The review team's final report stated, "The team commends the system for its commitment to continuous improvement and is confident it has the capacity to maintain its high level of excellence as it continues to improve learning opportunities for all students."
Looking at the district's overall performance based on a set of international standards in three domain areas (Leadership, Learning, and Resources), the team gave the district its highest two ratings of either "Impacting" or "Improving," across all 31 standards and issued no "insufficient" or "initiating" ratings, which are the lowest of Cognia's four-level rating scale. The team's final report noted that the school district's leadership culture, collaboration with the community and innovative use of resources were "deeply entrenched" and are positively "impacting" how schools can operate effectively and help children learn successfully.
While accreditation reviews help school districts continuously improve, they matter for parents as well because re-accreditation ensures the school district remains eligible to receive state and federal funds to serve children, and students who attend unaccredited school districts may have difficulty transferring course credits, applying to colleges, and receiving financial aid, including the HOPE scholarship.
The Review Report
From March 13-16, the seven-member Cognia review team, led by Holly Wingard of South Carolina, virtually interviewed more than 200 parents, students, employees, and members of the community. Prior to the visit they also combed through thousands of pages of achievement data and other requested  evidence compiled by the district that showed the system's efforts in the three standard areas.
On Cognia's trademarked Index of Education Quality, Bulloch County Schools earned an overall rating of 340.48 out of 400 points, which exceeds the network average of 278.34 to 283.33 for other systems accredited by the group, and is an improvement of 58.77 points over its 2017 score of 281.71
"Again, this speaks to our journey," Wilson said. "Our 2012 accreditation report reflected a need for significant changes across the district, with a strong emphasis on (in summary) the need to develop and implement a stakeholder-driven strategic plan. It was evident at that time that we were not up to par by national or state standards and that we were not achieving our potential."
However, by 2017, when the school district was re-accredited for 2018-2022, that review team's leader, John Sedey, told the Board of Education during a public regular session that, "You are on the brink of doing incredible things. You have the right people and pieces in place."
The 2017 re-accreditation review showed significant improvements due to the district's course corrections and planning begun in 2012.  The school district's overall score in 2017 increased to 281.71 while the then network average was 278.94. This put the district at about the national average but it continued to build a culture that values continuous improvement based upon feedback. Now, in 2022, this latest accreditation review reflects an even greater view of the impact of Bulloch County Schools' efforts.
"It's been a journey that has involved more challenges than could be foreseen," Wilson said. " But the people of this district, supported by the leadership of this district, who in turn have been supported by the board of education's steadfast commitment to its vision that began in 2012, have achieved another milestone of success."
Wilson attributes all of this improvement to the steadfast commitment to the vision, mission, beliefs and values that were established by stakeholders in 2013.
"Thank you to our board, the leadership across this district, all of the fine folks that work in our schools, and our community who have believed in us and supported us," Wilson said.
In the spirit of the district's belief statement, it plans to thoroughly review the feedback in the accreditation report and consider it fertile ground for further improvement and an opportunity to achieve its fullest potential.
"I want to personally thank the Board of Education for its support of the best school district team that I believe exists and the opportunity to serve this entire community in this effort," Wilson said.
Key Feedback from the Review Team's Report:
What are positive practices noted by the review team?
System leaders provided clear examples of the ways in which actions align with purpose statements.
Interviews with leaders, teachers, parents, students, board members, and community leaders confirmed stakeholder engagement is valued and supported throughout the system.
Stakeholders demonstrate a shared commitment to the purpose statements, and system leaders align actions to ensure the achievement of the system's vision, mission, core values, and desired outcomes for student learning.
The system's culture is permeated by a growth mindset built upon a set of shared core values.
The review team noted that while the school district has three distinct geographic areas, community members and parents that the team interviewed commented that the system uses diversity among the areas as a strength and that while there are three different areas, it's one school district.
Parents reported the system consistently collects feedback on a variety of topics and that there are authentic opportunities to participate in the system's improvement process.
Collaboration with local post-secondary institutions support dual enrollment, active engagement in improvement initiatives, and additional opportunities for professional learning.
The system provides, protects, and values collaboration among all stakeholder groups.
The system exemplifies innovation in resource management through sound fiscal practices.
The funding model adopted by the school system and approved by the governing board empowers schools to use resources for their specific needs.
Autonomy is given to building principals in staffing and resource allocation decisions.
Board members indicated the current fund balance maintained by the system reflects sound fiscal planning.
A long-range facilities plan reflects forward-thinking about new facilities and maintenance of existing buildings.
The system demonstrated agility in its ability to quickly transition to online learning in response to COVID restrictions. Stakeholders who were interviewed commented that student learning continued because of the ease of the transition from in-person to online learning.
What are items that the review team noted as areas for growth & improvement?  
The team's recommendations for growth focused on student mentorship and better use of long-range data.
Although leaders and teachers highlighted the importance of positive relationships among students and between students and teachers, a formal, systematic structure with resources, designated time, and activities is limited. The team encourages leaders to strengthen the student advocacy structure at all schools.
Although stakeholder engagement in the system and school improvement planning was identified as a strength, a practice to evaluate stakeholder engagement strategies to ensure continued support is not evident. The team suggests that system leaders develop and implement a process to evaluate strategies to ensure stakeholders are engaged in system initiatives, define metrics to monitor the strategies, analyze the data, and use those data to adjust strategies to maint the current level of satisfaction among all stakeholder groups.
The system collects multiple points of data; however, a formalized and comprehensive process to ensure it is used to evaluate and transform programs and services is not a fully embedded practice. The impact of programs and processes on instructional practice, student learning, and organization are not fully explored.
The district's process for school improvement planning is a formalized platform to guide the collection and analysis of data; however, the team noted that long-range data is needed to determine the impact of programs and services on student achievement and organizational effectiveness and best guide improvement planning is not fully explored.
bulloch schools cognia accreditation ratings

Who is Cognia?
Cognia, formerly Measured Progress, merged with AdvancEd and changed its name to Cognia in 2018. It is one of two state-approved nonprofits that accredit Georgia public schools.The global nonprofit offers accreditation and certification, assessment, professional learning and improvement services to more than 36,000 institutions in 80 countries impacting nearly 25 million students and 5 million educators. AdvancED from mergers of the Southern Association of Colleges and Schools Council on Accreditation and School Improvement, or SACS-CASI. Accreditation reviews occur every five years.