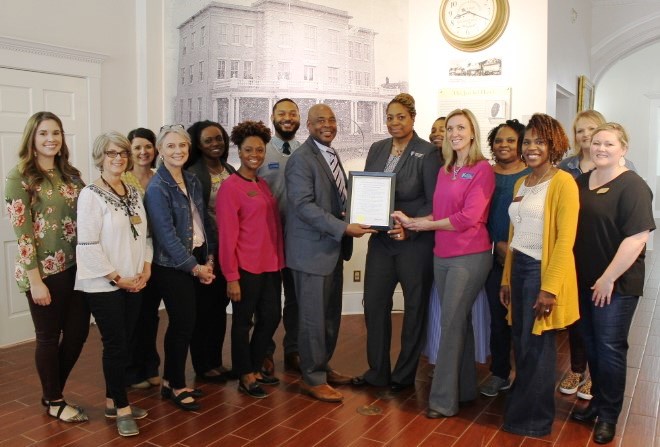 Local leaders took time to recognize the impact that school counselors have on school safety, student success, and school climate during National School Counseling Week, February 10-14.

Mayor Jonathan McCollar, the Statesboro City Council, Superintendent of Schools Charles Wilson, and the Bulloch County Board of Education each took time to express thanks to these educators who provide social and emotional learning opportunities, career education, and academic guidance for students, and who effect positive changes in school climates.
School counselors also collaborate with school social workers to match students and families to needed support services in the community. These professionals are special, trusted advocates for students and National School Counseling Week, which is sponsored by the American School Counselor Association, is celebrated each February to focus attention on the unique contributions of school counselors and how children benefit from their service.
Several of the school district's counselors met with Statesboro Mayor Jonathan McCollar, who read and signed a proclamation from the mayor and city council that highlighted the work of  school counselors for the community's children and youth.  Superintendent of Schools Charles Wilson and Assistant Superintendent of School Improvement Teresa Phillips recognized counselors and acknowledged the tremendous work they do at the counselors' monthly professional learning community meeting.
Dr. Deborah Mangum and Renee Perry, who are administrators in the school district's Student Support Services Department, and who are school counselors themselves, made a presentation to the Bulloch County Board of Education on February 13.  They thanked the superintendent of schools and the Board for their support of school counseling in our schools.
"Bulloch County Schools has 28 school counselors who hold a master's degree or higher," Perry said.  "They work with children, faculty and staff, parents, and community partners to optimize student learning and growth."
School counselors are a key resource at each of the school district's 15 schools and alternative learning centers. They deliver classroom guidance lessons, make large-group presentations, plan school-wide activities, lead small-group sessions, provide individual student counseling, consult and collaborate with faculty, and refer public services that contribute to student and school success.
"School counseling is challenging, yet rewarding work and school counselors are integral to the overall school climate," Dr. Mangum said.
Professional school counselors are recognized for being actively engaged in helping students examine their abilities, strengths, interests and talents; for working in partnership with parents as they encounter the challenges of raising children in today's world; for focusing on positive ways to enhance students' academic, post-secondary and social-emotional development; and working with teachers and other educators to provide an educational system where students can realize their potential and set healthy, realistic and optimistic aspirations for themselves. School counselors are certified, experienced educators with a master's degree or higher in school counseling. The combination of their training and experience makes them an integral part of the total educational program.
Other community partners also stepped up to recognize school counselors. The SHINE Clubhouse provided t-shirts for each counselor which said, Teaching Kindness, Ogeechee Technical College donated gift bag items, and Chick-fil-A of Statesboro generously donated breakfast for all counselors.
This is a press release from Bulloch County Schools.