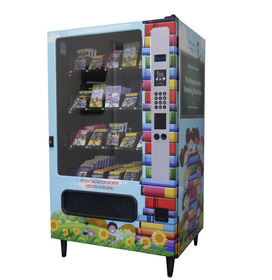 Read Across America Week (March 2-6) will have special significance at Langston Chapel Elementary School this year as the school debuts a new vending machine not for your favorite snack or soda, but for books. On Tuesday, March 3, from 9 a.m. – 9:30 a.m., the school will unveil its new reading tool during a ribbon cutting ceremony. Parents and local literacy advocates are encouraged to attend.


The school was recently gifted an Inchy Bookworm Vending Machine from the school district's Office of School Improvement, and it also received an $850 innovation grant from the Bulloch County Foundation for Public Education to stock it with free books for children. The initiative is part of the school's ongoing literacy efforts to encourage reading and reward positive behavior.
"This is an exciting opportunity for our students and school as it will spark a renewed enthusiasm and joy of reading," said Keith Wright, the school's principal. "The Foundation's innovation grant, which we received on February 13, will fund our, Literacy at the Push of a Button, initiative and help us purchase approximately 1,450 new books to stock the vending machine."
The project is in keeping with the school district's literacy initiatives which seek to improve pre-school illiteracy, increase the number of reading resources children have at home, and ensure all children read on grade level by third grade. Bulloch County Schools' partnerships with Ferst Readers of Bulloch County and the Altrusa Club to provide free books for children as well as district tools like the Bulloch Book Bus are just some of the new ways local educators encourage reading.
Read Across America Week is March 2-6, and March 2 is the annual observance of Theodor Seuss Geisel's birthday. Known  as Dr. Seuss, Geisel was an American artist, book publisher, animator, poet, political cartoonist, and author. He is best known for his 60 beloved books for children. In 1997, the National Education Association began using the month, week, and day of Geisel's birthday to focus on motivating children to read. Strong readers result in students who perform more successfully in school and in their careers.
This is a press release from Bulloch County Schools.