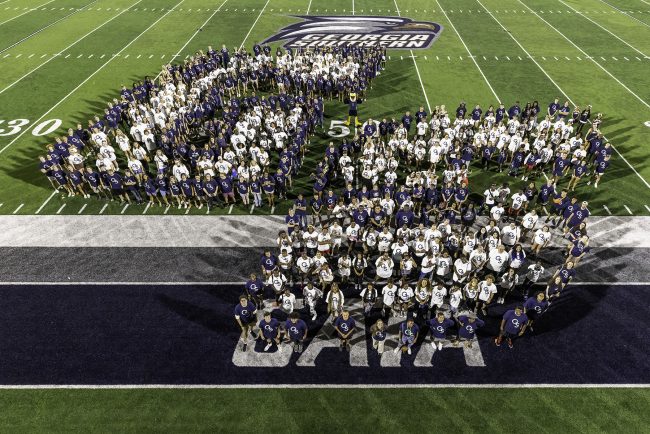 As their mascot soared overhead, hundreds of new Georgia Southern students crowded into Paulson Stadium to celebrate the end of the first week of classes and create an iconic start-of-the-semester photo.


The gathering was one of many events designed to help welcome a bright, diverse, worldly class of 7,633 students who are new to Georgia Southern this semester.
While final enrollment numbers will not be official until October, an early analysis of the of the fall 2023 class shows that the group includes:
4,715 students who are first-time freshmen, with an average high school GPA of 3.45
1,063 students who transferred into Georgia Southern this year
781 high school students dually enrolled in Georgia Southern classes
1,074 graduate-level students
Dual enrollment and graduate enrollment could both be enrollment records this year.
"Almost 32,000 students applied for a spot in Georgia Southern's class this year, signaling a real demand for the University's combination of value, excellence, tradition and impact," said Alejandra C. Sosa Pieroni, Georgia Southern's executive vice president for the Division of Enrollment, Marketing and Student Success.
"More and more students are recognizing Georgia Southern is a place where they can thrive– where they can get a world-class education, make life-long friendships and have an enriching experience that prepares them for a rewarding and fulfilling career," she said.
Analyses of the incoming students show:
4,715 first-time freshmen

Average High School GPA: 3.45
From Georgia: 89%
Number of states represented: 30
Number of countries represented: 21
First-generation college students: 36%
Honors College students: 313

1,074 graduate students

Doctorate: 10.2%
Masters: 82%
From Georgia: 71.7%

1063 transfer students

Average Transfer Credits: 52.08
From Georgia: 679 78%
Number of states represented: 22
Number of countries represented: 18

731 dual enrolled

Average High School GPA: 3.69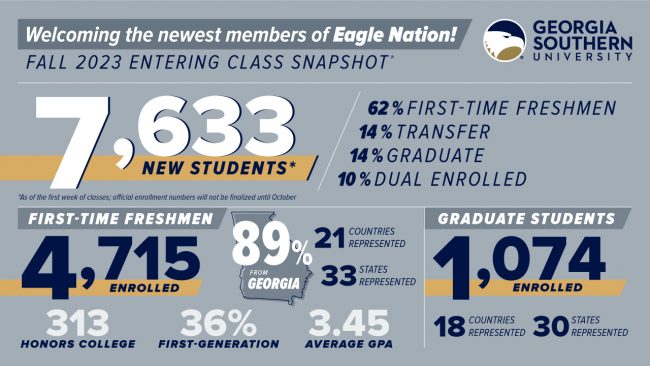 ---
GSU