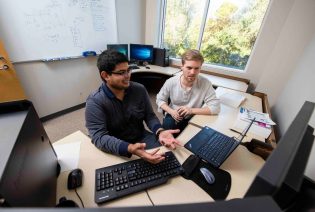 Three bachelor's programs in Georgia Southern University's Allen E. Paulson College of Engineering and Computing have recently received reaccreditation status. 


The Bachelor of Science in Construction degree program received reaccreditation from the American Council for Construction Education. David Scott, Ph.D., chair of the Department of Civil Engineering and Construction, and David Williams, associate dean for students and curriculum, co-chaired the accreditation team.
Additionally, the Computing Accreditation Commission of ABET has awarded reaccreditation to the Bachelor of Science in Computer Science and the Bachelor of Science in Information Technology degree programs.
Faculty who contributed to the accreditation process include Gursimran Walia, Ph.D., department chair of Computer Science, Hong Zhang, Ph.D., Yiming Ji, Ph.D., department chair of Information Technology (IT); Cheryl Aasheim, Ph.D., assessment team chair for IT, and David Williams, Ph.D., associate dean for Students and Curriculum, and chair of the ABET accreditation team.
---
GSU