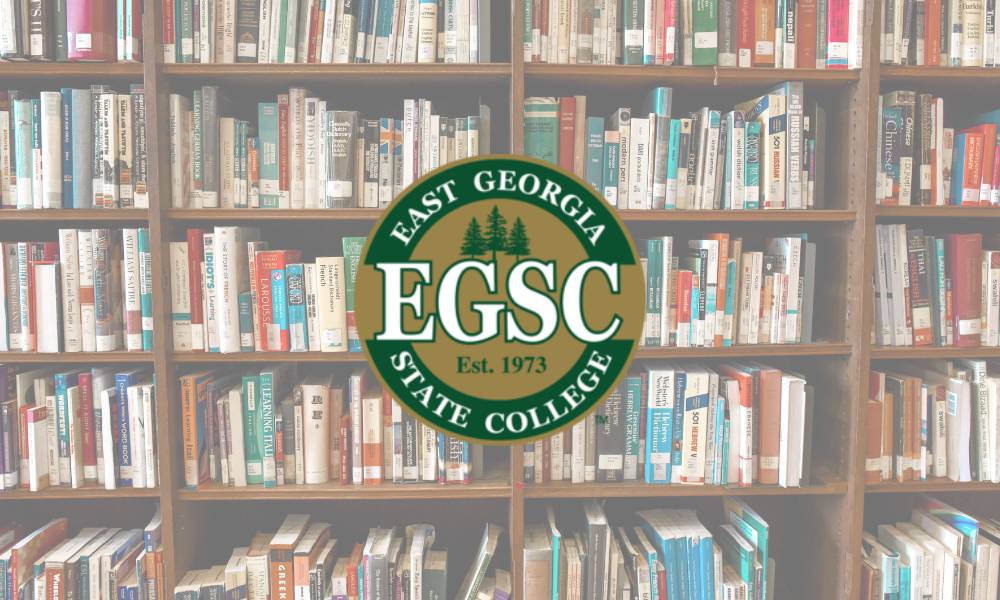 To be named to the Dean's Honor List, a student must have a semester grade point average of 3.5 or higher in 15 or more hours of course work. Students named to the Dean's Merit List must have a semester average of 3.5 or higher in at least 12 but less than 15 semester hours of course work.

The following students have been named to East Georgia State College's Fall Semester 2020 Dean's Honor and Dean's Merit Lists.
Dean's Honor List:
Appling County: Carson P. England, Cason A. Kirksey, Grant E. White.
Bacon County: Robert C. Kirkland
Bryan County: Gabrielle K. Davis, Christian P. Hilliard, Grant K. Taylor, Marilu M. Purdy.
Bulloch County: Dominic S. Barrow, Chandler Presley, Clayton D. Thigpen.
Burke County: Grace D. Gardner, John G. Drew, Tionna N. Young.
Camden County: Shawn K. Harkins
Candler County: Cameron L. Aldrich
Chatham County: Lyla G. Harrell
Cherokee County: Griffin M. McClure
Columbia County: McKenzie O. Dutton, Yasmine Chelbi, Banks E. Carter.
Coweta County: Byron P. Griffies, Elliott L. Vickery, Logan A. Frady.
Effingham County: Brianna F. Davis, Madison T. Johnson, Alina A. Keacher.
Emanuel County: Adrianna R. Braswell, George W. Donaldson, Christopher L. Durden, Megan E. Ray, Keiyona J. Reeves, John V. White.
Evans County: Page K. Kight, Pearson A. Page.
Gwinnett County: Genese Kim
Henry County: Taylor M. Elliott
Houston County: Madison A. Bussell
Johnson County: Kara I. Drew, Graci R. Smith, Samantha A. Glover, Kylie L. Powell, Carley K. Stapleton, MaKenzie S. Webb.
Putnam County: Maribel M. Sanchez
Richmond County: Emily M. Bunch, Alexis N. Jones, Brittney L. Phillips, Timera N. Wright.
Tattnall County: Diana B. Hernandez
Toombs County: Falyn A. Holland, Crystal Morales.
Treutlen County: Maddux P. Bedgood, Trevor H. Byrd.
Ware County: Sierra C. Taylor
Washington County: Tabitha C. Mimbs
Dean's Merit List:
Appling County: Ali K. Johnson, Faith H. Johnson, Calynn M. Kirkland, Carter J. Lastinger, Abbiegale N. Morris, Graci E. Nail, William B. Pendarvis, Carsen S. Morris.
Bryan County: Victoria N. Burns, Johnny N. Peny, Kaelyn A. Butler, Hunter M. Groover, Courtney D. Williams.
Bulloch County: Danielle A. Young, Brett S. Bazemore, Titus J. Rozier, Hunter M. Carter, Hannah G. Cook, Jordan G. Dailey, David F. Edwards, Shaunesty S. Frederick, Karen M. German, Hope E. Greene, Hilarie A. Jackson, Roslyn C. Johnson, Sydney J. Kira, Zachary O. Mayo, Russell K. Mobley, Amanda J. Townsend, Jaylan M. Williams, Logan M. Wilson.
Burke County: Monique E. Galvan, Alexander X. Archie, Luke A. Wilson, Riali E. Duncan, Blake A. Harrison, Bailey A. Jones, Madison C. Mobley, Brianna A. Wimberly.
Candler County: Allison R. Blackburn
Chatham County: Preston A. Crisp, Jada M. Sams, Caroline O. Brown, Bryce L. Dampier, Emily A. Eddy, Shamya Q. Hall, Anna V. Roberts, Matthew K. Taylor.
Clayton County: Hiyori S. Williams
Cobb County: Yamikani P. Vokhiwa
Coffee County: Desmond Murphy
Columbia County: Malik R. Bradley, Elijah G. Thomas, Jacintha A. Abotsi, Brigham C. Clark, Gerardo Hernandez, Benjamin T. Howard, Jessica M. Germain, Denise Rodriguez, Dana L. Vo.
Decatur County: Conner M. Strickland
DeKalb County: Briley A. Wilkes, Delicia A. McKenzie
Dodge County: Precious D. Coleman
Douglas County: Chantz B. Sorrows
Effingham County: Kassidy V. Brown, Haleigh H. Rewis, Taylor M. Smith, Guadalupe D. Harrison, Eryck N. Tackitt, Takara D. Wallace, Tyler L. Giovannini, Taylor R. Morgan, Caroline M. Rountree.
Emanuel County: Brandon A. Moore, Stephanie L. Willis, Kadin R. Harper, Chasity B. Johnson, Jocelyn M. Franklin, Jalyn J. Archie, Melissa Cartaya, Kerri G. Close, Jadah T. Harrison, Tara G. Hayslip, Nixon J. Hooks, Sanjay Narsee, Alexis K. Ray, Elisha K. Youmans, Kaci A. Aldrich, Citlalli Escamilla, Antoinette S. Steele.
Evans County: Ashley J. Gomez, Magaly Vaquero-Perez.
Glascock County: Leon Farrer
Glynn County: Madison M. Franklin
Gwinnett County: Jaylen T. Anderson, Dijana Matijevic, Rhea U. Patel.
Haralson County: Jim J. Brown
Henry County: Madeline A. Cash
Houston County: Haley M. Wheeless, William B. Lambert.
Jackson County: Armoni L. Sarpong
Jefferson County: Anlee R. Evans, Mya J. Brown, Caroline L. Kitchens, William R. Toulson, Lee K. Hannah, Alaylla L. Watkins, Aaliyana C. Patterson, Reagan F. Thigpen.
Jenkins County: Kaitlyn B. Beder
Johnson County: Jakob D. Smith
Laurens County: Starla A. Lampp
Madison County: McKenzie D. Dove
Newton County: James G. Gregory
Paulding County: Caitlyn D. Brown
Pierce County: Sarah E. Snow, Katelene L. Davis.
Pike County: Lauren K. Rosborough
Putnam County: Ivan Sanchez
Richmond County: Ciera P. Curtis, Imonya T. Garnett, Tyreke L. Harris, Nicole S. Hopkins, Jamaria J. Howard, Jaedon J. Johnson, Athanasio Morris, Khalisha J. Owens, Lauren T. Christy, Johnny L. Kittles.
Screven County: Kendall R. Adams, Jillian M. Lindsey, Elaine M. Sowell, Lindsey B. Thompson.
Tattnall County: Landry S. Laird, Alaina B. Strange, Bailey A. Strange, Fox K. Collins, Darien L. Cone, Carson L. Durrence, Aaron L. Fox, Hannah R. Fox, Brandon S. Manville, Sarah A. Melton, Glenda T. Rubio, Hunter C. Stanfield, Samantha Varela Carreno.
Toombs County: Haley M. Hutcheson, Alex A. Roman, Macy E. Stewart, Maggie L. Waller, Kierston M. Coleman, Jack L. Palmer, Allison C. Pittman, Lauren S. Stolarski, Madali P. Winn.
Treutlen County: Seth C. Love, Logan M. Powell, Charity C. Renfroe, Madison H. Richardson, Te'a J. Mercer.
Walton County: Destiny M. Ford, Madison K. Poole.
Wilkinson County: Mykia C. Austin
Rutherford County, Tenn.: Carter P. Hinson