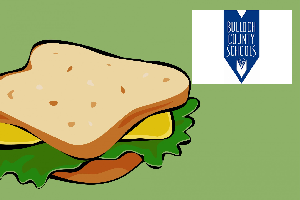 From Bulloch County Schools:


Bulloch County Schools' School Nutrition Department will provide meal service to all families whose children are enrolled in the school district's Pre-Kindergarten – 12th grade virtual learning program.  We are communicating to parents who enrolled their child in the virtual program. Please feel free to share this information if you are working with families and students in the virtual program.
How to Order? Parents/Guardians must complete this online meal service pre-order form by each Thursday to be able to pick up meals on the following 

Monday

. The online form is available on each district and school website and social media. It will also be emailed to all virtual program parents and students. Keep the link to use each week.
What Does a Meal Box Cost?

Breakfast is free for all students.
Lunches:

$11.25 per week for Pre-K -5th grade students who qualify for full-priced meals
$12.50 per week for 6th – 12th grade students who qualify for full-priced meals.
$2.00 per week for Pre-K – 12th grade students who qualify for reduced-priced meals.
Free, no cost for Pre-K – 12th grade students who qualify for free meals.

How Do You Pay for Meals? The school district uses MySchoolBucks to provide parents/guardians a convenient online website and mobile application from which to manage a meal payment account and make payments online. You can also make a payment by cash or check at curbside when you pick up your meals.
What Do You Receive? This service provides a one-week supply of five breakfasts and five lunches for each child in grades Pre-Kindergarten – 12th. The first two week's menus are attached below. Thereafter, the meal menus will be the same as those served in the traditional program, and the menus are posted on the school district's website and printed in the local newspaper.
Who Can Pick Up? Meals may be picked up by a parent, guardian, caregiver, or the student if he or she is old enough to drive.
What Time to Pick Up? There are two available time frames to choose from for meal pickup: 9 a.m. – 10 a.m. or 4:30 p.m. – 5:30 p.m.
Where to Pick Up?

 Meal boxes are for curbside pick up only on each 

Monday

 when school is in session.
 The pick up locations are outside each of the school district's nine elementary schools.
Families with children in middle and high school, will go to their home's zoned elementary school to pick up meals.
School Nutrition staff will set up outside the elementary schools during the two time frames.
School Nutrition staff will place a box of food for each child inside the family's or student's vehicle. Participants are asked to remain in their vehicle.

How does my child qualify for free or reduced-priced meals?

If your child was a student in our school district last year, and he or she qualified for either free or reduced-priced meals last year, your family's application is still valid for your child to continue to receive free or reduced-priced meals through 

September 29, 2020

.
To either apply to qualify for free/reduced-priced meals as a new student or to renew your previous year's application, a parent or guardian must complete a 2020-2021 Free & Reduced-Price Meal Application. Our school district will provide a printed application to all students or you can complete the application online via this link. A completed form must be received and processed prior to 

September 29

, for returning students to continue to receive this benefit.