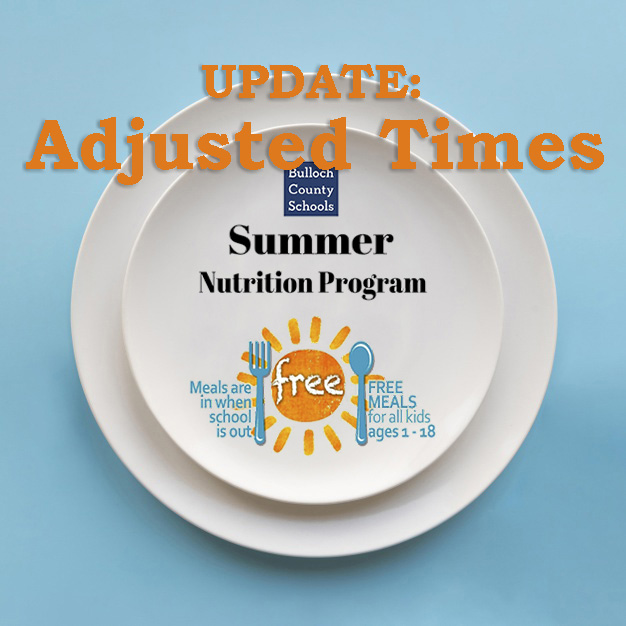 Bulloch County Schools is seeing high volumes at its Summer Nutrition Program sites, particularly at the weekly meal pick up locations. Times have been adjusted for the weekly pick up option.


While the district typically prepares to serve between 5,000 to 7,000 meals during the summer, demand was higher than expected on June 5, which was the first day of the program's drive-thru pick up meal service option.
By 10:30 a.m., the three pick up locations had exhausted the 6,100 meals (610 boxes) that had been prepared. Families who were unable to receive a meal box were directed to the district's three eat-in meal service locations at Mattie Lively, Julia P. Bryant and Sallie Zetterower elementary schools for daily meals. If you need information about other food resources in our area, you may also use Food Finder. Simply text FOODGA to 877877 from your digital device or cell phone to receive a map of source locations or call 1.866.348.6479.
The school district also invites families to visit its remaining pick-up dates on June 12, 19, and 26. For these dates, the school district has also adjusted its weekly pick up times to 8 a.m. to 10 a.m., or while supplies last.
Weekly Meal Pick Up Option
Every Monday in June, 8 a.m. – 10 a.m. (or while supplies last)
Food Pick Up Dates: June 5, 12, 19, & 26,
Food Pick Up Sites:

Statesboro High School, 10 Coach Lee Hill Boulevard, Statesboro
Nevils Elementary School, 8438 Nevils Groveland Road, Statesboro
Portal Middle High School, 27245 U.S. Highway 80 West, Portal
Drive to the school site, and nutrition staff will give you a box of food for each child. Children do not have to be in the vehicle for a parent or guardian to pick up meals. The box will contain perishable and non-perishable food for five breakfasts and five lunches.
Daily On-Site Breakfast & Lunch Meal Service
Weekdays (Monday to Friday), May 31 – June 30, 7:45 a.m. – 12 noon
Breakfast is served 7:45 a.m. – 8:30 a.m.
Lunch is served 11:30 a.m. – 12 noon
On-site Sit Down Meal Service Sites:

Mattie Lively Elementary School, 204 Debbie Drive, Statesboro
Julia P. Bryant Elementary School, 421 W. Main Street, Statesboro
Sallie Zetterower Elementary School, 1200 Cawana Road, Statesboro

Children may come to these sites each weekday to eat a single breakfast, lunch or both on site during designated times. Federal regulations do not permit any food to leave the site for this option. More Food Resources
Food Finder
Do you need more information about food resources near you? See these location finders:
Use Food Finder. Text FOODGA to 877877 from your digital device and you will receive results that provide a map to the resources nearest to you
Access the Summer Meals Finder Map to find the closest food resources near you
Dial 1.866.3.HUNGRY (1.866.348.6479) to find locations.
Use the United States Department of Agriculture's (USDA) online Summer Meals for Kids Site Finder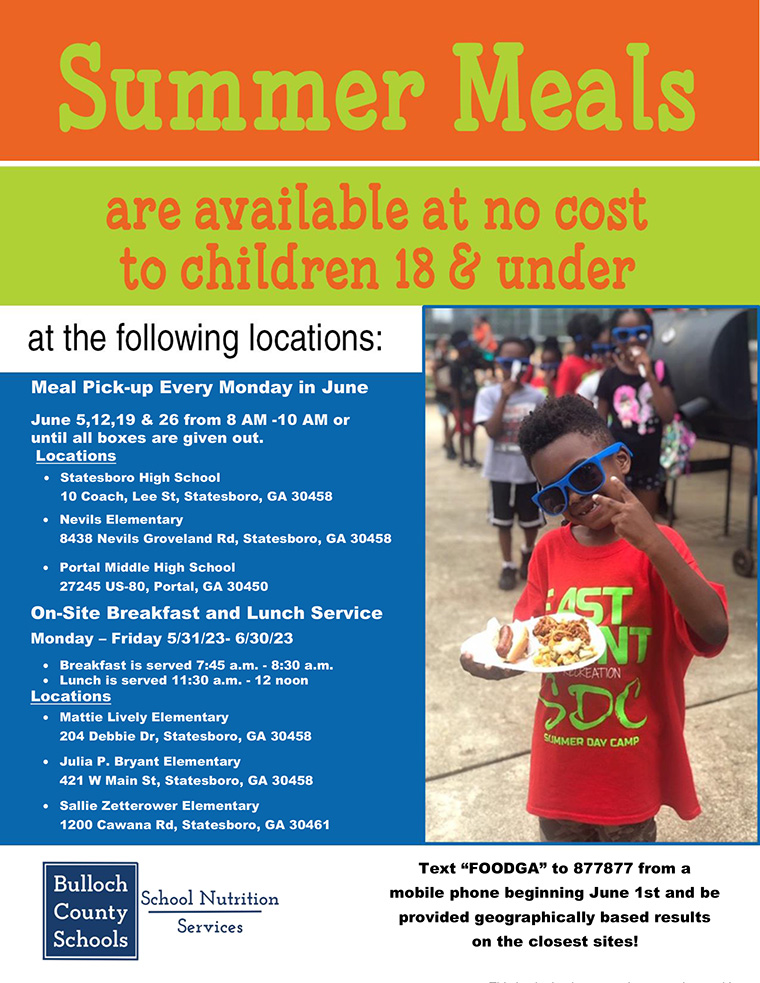 ---
About Food Finder
Food Finder is a food pantry locator and 501(c)(3) nonprofit that shows you when and where to get free food assistance in your area. The map on their homepage is a map of food pantries and school meal locations – every pin that appears is a food assistance program nearby. Tap on one to see when they offer food service.
---
Bulloch County Schools