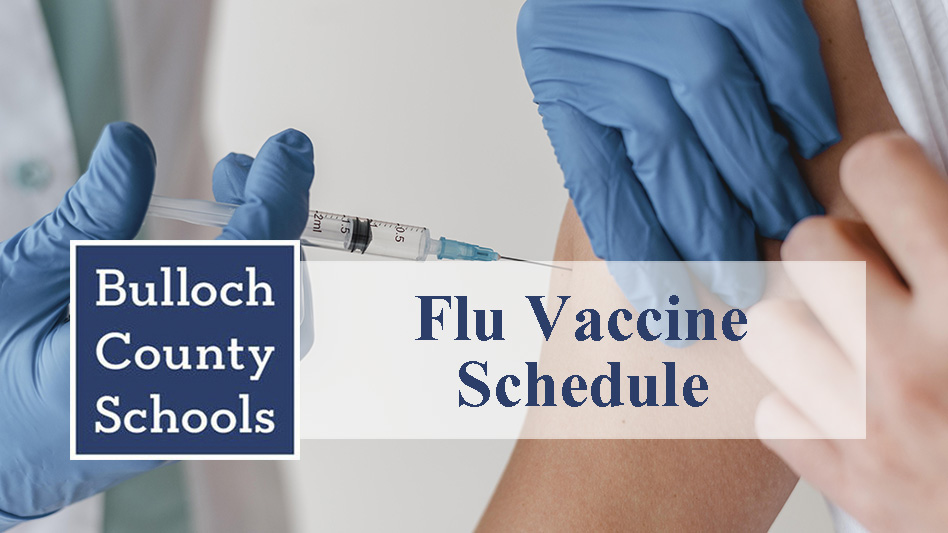 Bulloch County Schools' flu vaccine clinic locations and schedules for students:


Flu Vaccine Clinics for Students
The school district will also host flu vaccine clinics at each of its schools for students in grades Pre-Kindergarten through 12. Schools sent Student Flu Vaccination packets home with students the week of October 4. Parents who were interested in their child receiving a flu vaccine at school, completed and returned an interest/permission form to their child's school by October 12. We are unable to accept additional appointments for these school clinics, but families can also visit the Bulloch County Health Department from 10 a.m. to 5 p.m. daily for a flu shot.
Based on the forms that parents returned to the schools, the Bulloch County Health Department has created a final schedule of student flu vaccine clinics to be held at each school during the school day. Health Department personnel will administer the vaccine only.  Flu-mist will not be an available option.
Student Flu Vaccine Clinic Schedule
(For students whose parents returned interest/permission forms) 
10/27/21 Wednesday
Portal Elementary                         8:30 – 9:00
Portal Middle/High                        9:15 – 9:45
William James Middle                  10:00-10:30
10/28/21 Thursday
Julia P. Bryant Elementary             8:30 – 9:15
Cedarwood                                     9:30 – 9:45
Langston Chapel Elementary       10:00-10:30
Langston Chapel Middle              10:35-10:50
10/29/21 Friday
Sallie Zetterower Elementary       8:30 – 9:45
Mill Creek Elementary                10:00-10:30
Statesboro High                          11:15-11:45
11/3/21 Wednesday
Mattie Lively Elementary            10:15-10:45
11/4/21 Thursday
Brooklet Elementary                   8:30 -10:15
Stilson Elementary                   10:45 – 11:15
11/5/21 Friday
Nevils Elementary                       8:40 – 9:30
Southeast Bulloch Middle           9:45 -10:30
Southeast Bulloch High            10:40 -11:00
---
Bulloch Schools