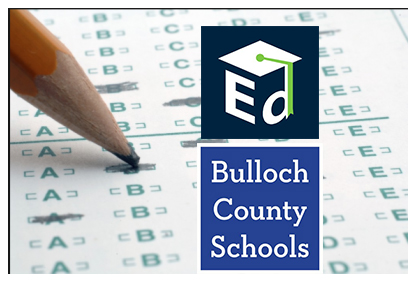 Georgia's standardized tests will be administered by Bulloch County Schools this spring to students in 3rd through 8th grades and in certain high school courses, as required by the U.S. Department of Education. However, Georgia Milestones assessments this year will not be used to make promotion and retention decisions for students.


Bulloch County Schools says that parents/guardians of students enrolled in the school district's virtual learning program will have the option of testing at the school. A survey with testing options will be sent by this Tuesday, March 2. Based on responses, a schedule will be developed for virtual learners for proctored testing at the school. The schedule will be published prior to testing in April.
From the Bulloch County Schools website: The Georgia Department of Education (GaDOE) does not currently recommend remote administration as an option for Georgia Milestones assessments and believes it is not achievable due to logistical, connectivity, and security concerns. The GaDOE and our school district are unaware of any states that have accomplished remote administration of a secure standardized test on this scale without major issues.
Georgia Milestones scores provide additional measures of student mastery of standards that may be helpful to teachers and administrative staff as they plan for instruction for the 2021-2022 school year. Results from Georgia Milestones may also assist you, as a parent, in providing targeted learning opportunities for your child during the summer months. It is important to note that for certain high school courses which require a Georgia Milestones' End-of-Course assessment, the State Board of Education has approved State Superintendent Richard Woods' recommendation that its score weight only be .01 percent of a student's final course grade rather than the normal 20 percent.
Unlike I-Ready testing, which is currently being conducted by the school district and will be one of multiple data points used to determine student eligibility for certain academic courses and programs, promotion, and retention, Georgia Milestones scores will not be used for these purposes this year.
The Georgia Milestones will be administered in accordance with federal requirements. All state education departments in the nation received a notification from the U.S. Department of Education (USDOE) on February 22, that made it clear it will not waive federal testing requirements for 2020-21.
Georgia's State Superintendent of Schools, Richard Woods, had previously submitted two requests for waivers from testing, during former USDOE Secretary Betsy DeVos' administration and most recently to Phil Rosenfelt, the current acting secretary.
Read about the federal response to Georgia's request to waive assessment and accountability requirements here.