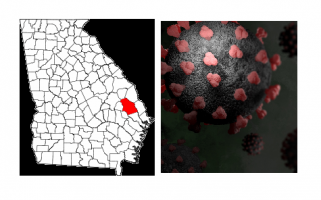 One Confirmed positive COVID-19 case:  Nevils Elementary School
One Confirmed positive COVID-19 case: Portal Elementary School

On 

August 19

, at approximately 7 p.m. and 8 p.m., the school district was notified that Nevils Elementary School had one positive COVID-19 case, a student, and Portal Elementary School had one positive case, an employee.

The school's administrators and school nurse enacted their COVID-19 safety protocols that were developed in partnership with the Department of Public Health.

The schools have completed their identification of any persons who had close contact and direct exposure to the cases, which was three employees and 16 students at Nevils and one employee and six students at Portal, all of whom have been contacted by school personnel. 

The identified students will be quarantined for 14 days at home, and they will receive instruction from their Bulloch County Schools teachers via distance learning using the school district's Google Classroom and Google Meets tools.

Per the Department of Public Health, the quarantined students and employees may not return to school, even with a doctor's note, until they have completed the 14-day quarantine period and have no COVID-19 symptoms. School nurses will monitor this quarantine to ensure no person returns to the building until their quarantine period is complete and the person has no symptoms.

Only the identified students and employees are quarantined, per DPH, no other family members or other siblings have to quarantine unless they are exhibiting COVID-19 symptoms.

All schools practice deep cleaning measures throughout the day, and areas where a COVID-19 person has been will receive immediate deep cleaning.

Only students whose parents were contacted are quarantined. Other students may return to school.
COVID-19 Positive Cases & Quarantines for the Week 

of August 17 – 21

 (To-date)
4 COVID-19 positive cases

One case at each of these four separate schools:  Langston Chapel Middle School, Mattie Lively Elementary School, Nevils Elementary School, and Portal Elementary School

The four cases have resulted in 49 students and 8 employees being quarantined for 14 days.