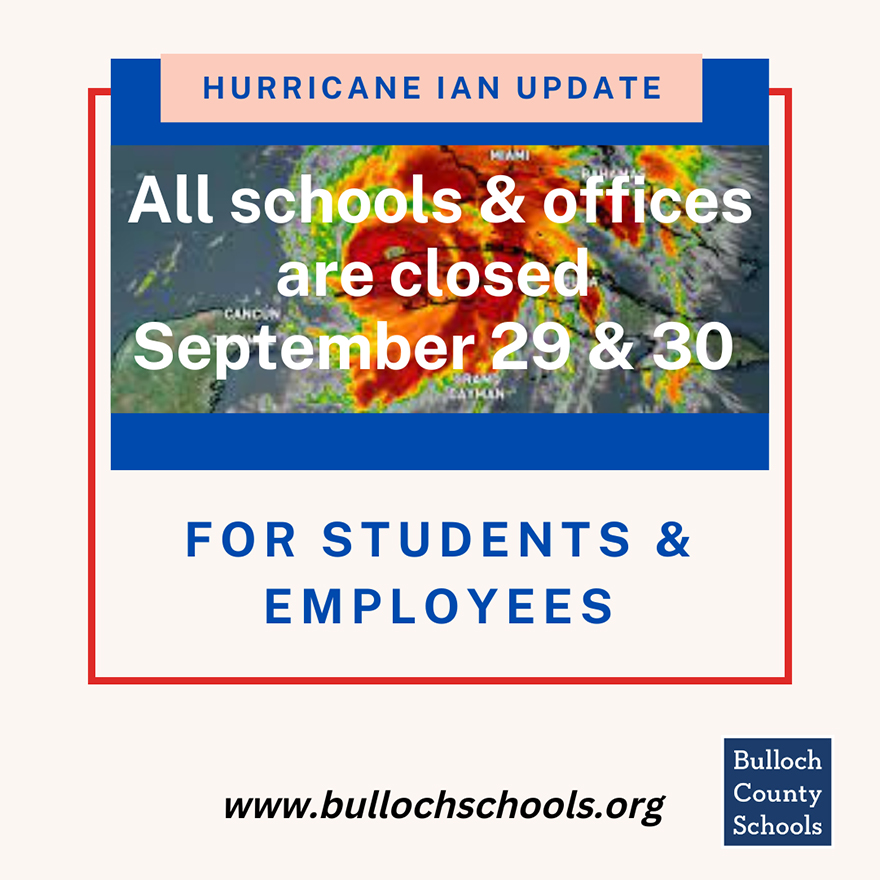 UPDATE 10/04/2022:

Students and employees of Bulloch County Schools will not have to make up the two days missed as a result of Hurricane Ian. 
Superintendent Charles Wilson made the announcement after speaking with his leadership team. Faculty are confident that they can recapture any lost learning throughout the remainder of the semester.
The school district closed schools on September 29-30 for all students and employees. This was due to the latest National Weather Service reports which at the time predicted the possibility of tropical storm-force winds in Bulloch County. This would have prevented safe road travel, especially for school buses.
Bulloch County Schools has four make-up days included in its 2022-2023 school calendar, two in each semester. When the district believes lost classroom instruction time cannot be made up within regularly scheduled class days, the superintendent can make the decision to activate one or more weather days. The days for this year are October 17-18 and April 3-4. State Board of Education policy allows school systems to cancel up to four instructional days without scheduling make-up days. 
---
Bulloch County Schools and all of its district offices will be closed on Thursday and Friday, September 29-30, for all students and employees. All after-school activities, sports practices and meetings are also canceled.
"This decision is based on the most recent official weather forecasts we have from the National Weather Service that show the possibility of severe weather in our area beginning as early as 8 a.m., Thursday morning. This forecast includes possible wind gusts of over 35 miles per hour which are out of the safe zone for school buses, student drivers and families to travel. The safety of our employees and the children we serve is most important.
As we return to school on Monday, the amount of rain we receive could affect school bus route stops. The school district has already made a list of potential alternate bus stops for roads where flooding or road closures typically occur due to heavy rain or standing water. Remain alert. We will notify families if we need to activate any of these alternate stops. 
Thank you, and be safe."