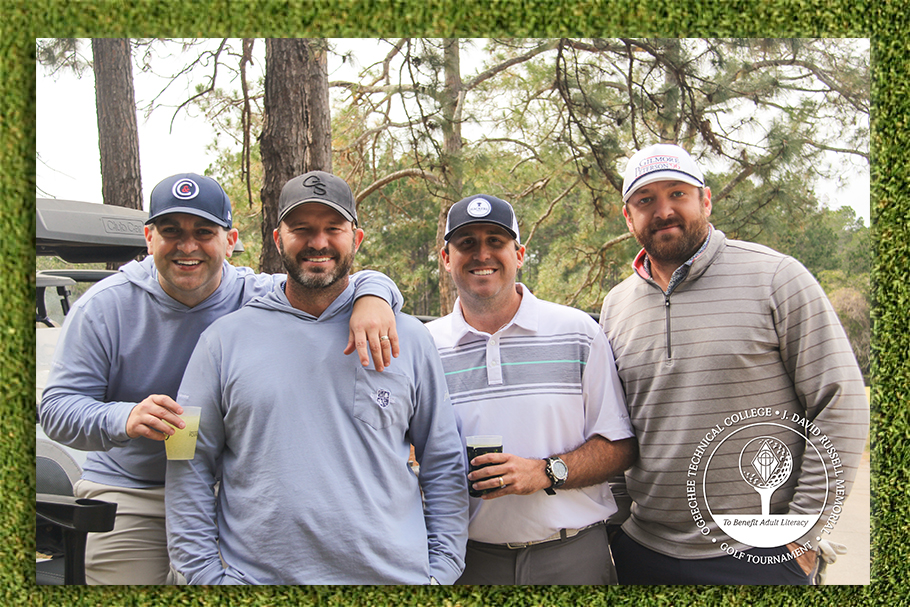 21 teams recently competed in the annual J. David Russell Memorial Golf Tournament at Forest Heights Country Club in Statesboro to raise funds for Adult Education and Adult Literacy at Ogeechee Technical College.

"This tournament is critical to our mission of serving the adult education and literacy needs of our community," said Samantha Smith, Dean of Adult Education at Ogeechee Tech. "Each year this tournament helps provide funding that allows students to test and get additional training to further their education."
Prior to the 12:30 pm shotgun start, Chris Igwe, OTC's 2021 Exceptional Adult Georgian in Literacy Education (EAGLE) winner, shared how Adult Education has given him the chance of a pursuing a career after moving to the US from Nigeria.
"I am one of the many walking testimonies for the importance of Adult Education," said Igwe. "I came here from Nigeria with no training or skills that would enable me to begin a profitable career. My dream is to graduate with an academic degree from OTC in practical nursing and obtain a good job to support my family."
The tournament consisted of a pool of 21 teams, including teams from Augusta and Atlanta, that all competed to raise money for the college's adult literacy programs in Bulloch, Evans, and Screven counties. Ogeechee Tech VP for College Advancement, Michelle Davis, had the pleasure of greeting teams before they began playing.
"We are extremely thankful for our sponsors and participants and how they support our tournament every year. By supporting this tournament and the gift of literacy, we are helping adults better their livelihood and thus enriching our communities," said Davis.
The first-place team (gross total) was from Queensborough and consisted of golfers Ken Austin, Jason Forehand, Joel Collins, and Mark Cooper. The net total winners were from Synovus and consisted of golfers Kyle Kamppi, Ryan Quick, Al Chapman, and Buddy Jones.
The proceeds will be used to help pay for the cost of the GED exam for qualifying students and to provide Integrated Education and Training (IET) opportunities for students as well.
---
OTC