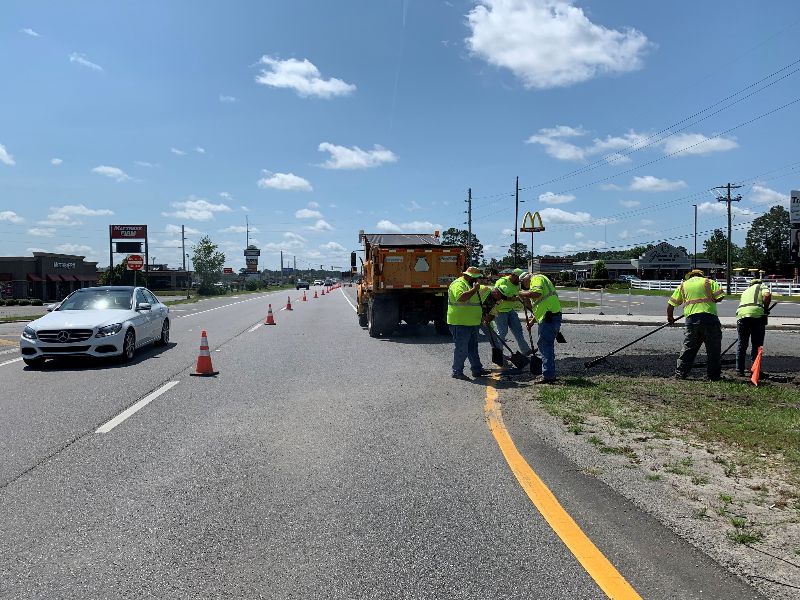 Georgia DOT continues essential road work throughout Southeast Georgia.  As a result, work on construction and maintenance projects will continue Saturday, June 26 through Friday, July 2.


All work subject to change due to weather or other factors. Motorists are cautioned to reduce their speed while traveling thru work zones, pay attention and watch for workers.
Traffic interruptions are listed below by interstates, categories, and counties.
Interstate 95 
Bryan & Chatham Counties 
I-95 Striping Operation                                         
US17 (Exit 87) to Quacco Rd. overpass bridge
Slow moving rolling lane closures with temporarily blocking of ramps
Nightly, 7pm thru 6am
Interstate 16 
Bulloch, Bryan, Effingham and Chatham Counties
SR67 to I-95                     
Lane closures for slab repair and replacement/ Asphalt shoulder repair
Monday thru Sunday:
From Milepost 126 to 142 EB and WB, 6am to 7pm & 7pm to 6am
Continuous thru weekend
From Milepost 142 to 157 East Bound, from 8pm to 6am Nightly
Effingham County
I – 16 MP 147 To MP 148                                                       
EB & WB Lane Closures for Painting  Bridge.
Daily 9 AM – 5 PM
Chatham County
I –16 MP 165 to MP 167                                                          
Exit 167 A&B – Gwinnett St & MLK Ramps
Monday thru Thursday 7pm to 5am
Weekend continuous single lane closures
Bridge Overlay Construction
Bulloch County 
I-16 TRAFFIC PACING        
Sunday, 8am to 4pm
Several paces between Milepost 111 & 124
GA Power work on high voltage power lines
Interstate 516
Chatham County
I-516 Westbound TRAFFIC PACING                                      
Monday 10am thru 2pm intermittently
Overhead sign inspections at Exits 3, 5, 7A
Law Enforcement pacing traffic
Bridge Closures and Road Detours
Bryan County
Olive Branch Road (CR 12) over I-16                                         
Road closure for bridge raising and rehabilitation
Expected reopening in July
Detour Route: US 280, US 80
Bulloch County
Arcola Road @ Upper Black Creek Bridge                             
Near Rozier Rd
Road closure for the bridge replacement project
Expected reopening:  November 2021
Detour Route: SR 46, SR 67, Brooklet-Denmark Rd, Mud Rd
Candler County
Excelsior Church Rd @ Ten Mile Creek                                 
Near Dutch Ford Road
Road Closure for the bridge replacement project
Expected reopening:  July 2021
Detour Route:  Dutch Ford Rd, Turner Rd, Jones Rd
Screven County
Beaverdam Creek @ Hilltonia-Perkins RD                             
Road Closure for the bridge replacement project
Detour Route Waynesboro Hwy (Hwy 24), Bascom Rd
Expected reopening: December 31, 2021
Bridge Construction, Rehabilitation, and Maintenance
Chatham County
Islands Expressway                                                                  
From Elba Island Rd to Oatland Island Rd
East & West single lane traffic flow on a single bridge
Continuous until further notice
Glynn County
US17/SR25 on Sidney Lanier Bridge                                            
Lane Closures for Bridge Rehabilitation Project
Monday thru Sunday, 6am to 6pm
Appling-Toombs County
SR4/US1 Over Altamaha River                                     
West River Rd. (Appling Co.) to Bob Cato Rd. (Toombs Co.)
Daily Lane Closures for Bridge Construction Activities
Monday thru Friday, from 8:00am to 6:00pm
Appling-Toombs Counties
SR4/US1 Over Altamaha River                                   
Intersection of US1 @ SR147
Daily Lane Closures 8am to 6pm
Roadway/Pipe Construction
Resurfacing 
Montgomery County
US 280/SR 30                                                                         
South of SR 15 (Higgston) to East of Ailey
Lane Closures for asphalt resurfacing
Daily,  7am to 6pm
Bryan County
SR 144 Spur (Ft. McAllister Rd)                                                      
SR 144 to Grace Court Drive
Lane closures for milling and paving operations
Nightly 7pm to 6am NB
Other Traffic Interruptions
Chatham County
SR 307 from SR 21 to SR 25                                                       
Week night and weekend lane closures
replace pavement markings
Bulloch County
SR 26 MP 17.41 to 18.84                                                               
Daily lane closures
concrete pavement repair and replacement.