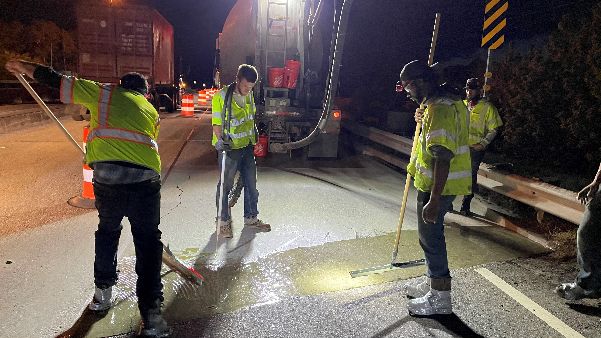 Georgia DOT continues essential road work throughout Southeast Georgia.  As a result, work on construction and maintenance projects will continue Friday, April 16 through Friday, April 23.

All work subject to change due to weather or other factors. Motorists are cautioned to reduce their speed while traveling thru work zones, pay attention and watch for workers.
Traffic interruptions are listed below by interstates, categories, and counties.
Interstate 95 Interruptions 
Camden County
I-95 over SR 40 (Exit 3) and Satilla River                
Lane Closures for Bridge Maintenance
Monday thru Thursday, 7pm to 7am
Interstate 16 Interruptions
Bulloch, Bryan, Effingham and Chatham Counties
SR67 to I-95          
Lane closures for slab repair and replacement
Monday thru Saturday:
From Milepost 126 to 142 East and West Bound, from 6am to 7pm
From Milepost 142 to 157 East Bound, from 8pm to 6am
Chatham County
I –16 (Gwinnett St. Overpass)                                    
EB and WB nighttime lane closures for Bridge Overlay Construction
Tuesday thru Friday from 7pm to 5am
Bridge Closures and Road Detours
Bulloch County
Spring Creek Rd @ Spring Creek
Near Stilson-Leefield Rd
Road closure for the bridge replacement project
Expected reopening:  May 2021
Detour Route:  Rough Rider Rd, Stilson-Leefield Rd
Bulloch County
Arcola Road @ Upper Black Creek Bridge
Near Rozier Rd
Road closure for the bridge replacement project
Expected reopening:  November 2021
Detour Route: SR 46, SR 67, Brooklet-Denmark Rd, Mud Rd
Candler County
Excelsior Church Rd @ Ten Mile Creek
Near Dutch Ford Road
Road Closure for the bridge replacement project
Expected reopening:  July 2021
Detour Route:  Dutch Ford Rd, Turner Rd, Jones Rd
Bridge Construction, Rehabilitation, and Maintenance
Chatham County
Islands Expressway
From Elba Island Rd to Oatland Island Rd
EB & WB traffic will be shifted onto the existing South Bridge
Starting 7 pm Monday continuous thru April 30
Chatham County
US17/SR 25                                                                     
From Ogeechee River to I-516
Single Lane Closures for signal work, milling and asphalt paving
Daily from 7 pm to 6 am
Bryan County
SR30/ US280                                                                          
From Dillion Drive to Oracal Parkway
Bridge overlay construction
Weekend Work: 8pm Friday continuous lane closure thru 5am Monday
Weekday Work: 7am – 8 pm Monday thru Friday
Glynn County
US17/SR25 at Sidney Lanier Bridge
Lane Closures for Bridge Rehabilitation Project
Monday thru Sunday from 6am to 6pm
Resurfacing 
Bulloch County
US301 Bypass                                                                    
From US301/SR73 (north of Statesboro) to SR67 (Fair Rd)
Lane Closures for asphalt resurfacing
Monday thru Sunday, from 7pm to 6am
Other Traffic Interruptions
Telfair County
US341/SR27                                                                          
From First Avenue to Second Ave in McRae
Lane closures for pavement widening and crosswalk construction
Monday thru Friday, 8am to 5pm
Bryan County
SR 144                                                                                     
From Timber Trail to Belfast River Rd in Richmond Hill
Traffic pattern on four lane configuration with continuous inside lane closures
For median work