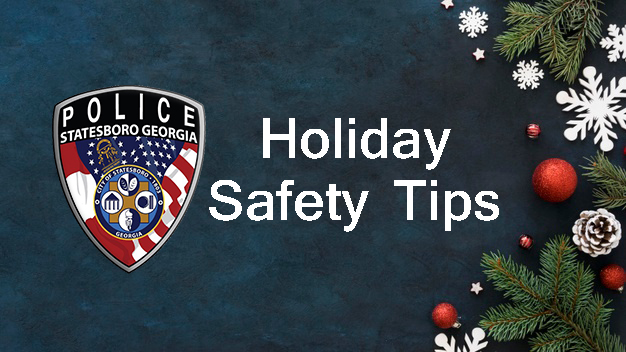 Statesboro Police Department is sharing some holiday safety tips:


The holidays are a time to enjoy the company of family and friends, but it's also a time in which criminals ply their trades. Depending on your situation and plans, some of the following tips may help you avoid trouble at home, when out shopping, or when on the road.
If you are traveling:
Remember that situational awareness is important no matter where you visit; all locations have crime.
Set alarms, surveillance systems, and light timers for your home while you are gone.
Make sure your doors and windows are locked.
Make sure any remaining cars are locked as well.
Ask a trusted neighbor or family member to keep an eye on your home and grab your mail while you are away.
Don't advertise your absence on social media.
If you are out shopping:
Stay alert and be aware of your surroundings.
Park in well-lit areas, lock your car, and hide all gifts and valuables from view or in the trunk.
Don't carry large amounts of cash.
Carry your purse close to your body and move wallets to inside or front pockets.
Have your car keys handy as you approach your vehicle and check your surroundings before opening the door.
Lock your car doors immediately upon entering.
Be aware that scammers try to take advantage of well-meaning people around the holidays. Be generous and giving, but make sure you are supporting legitimate causes.
Report suspicious activity to local law enforcement.
If you are a student going home for break:
Lock up bedroom and apartment doors and windows.
Log the serial numbers of valuable items being left behind.
Take items with you if possible.
Activate any personally owned camera systems left behind.
Disposal of holiday waste and trees:
The City of Statesboro will be setting up roll off trash dumpsters at Public Works (Braswell Street), Wastewater (Briarwood Rd), Municipal Court (West Grady St), and Fire Station 1 (West Grady St). These units will allow people to drop off boxes, preventing them from building up at home and drawing the attention of criminals.
The City also plans to have a location (to be determined) for the collection of trees after the Christmas holiday.