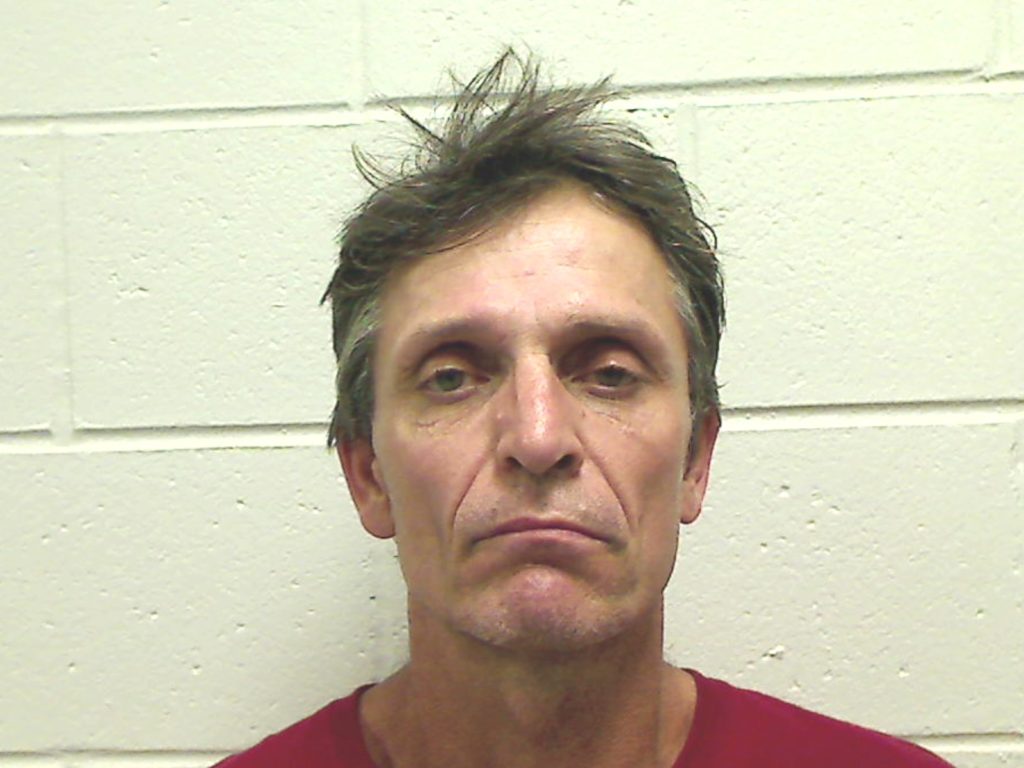 The Bulloch County Sheriff's Office says deputies arrested a known sex offender from Candler County on Sunday after an incident near I-16.

Robert James Lanier, 49, was arrested on Sunday after a motorist on I-16 called 911 to report a person exposing himself to her.
Corporal Jason Borne responded to the area with the description of the male and vehicle, but was not able to locate anyone matching the description, according to the Bulloch County Sheriff's Office. Borne then contacted the motorist who called 911. The complaintant/victim had left the area 'due to being very scared and disturbed' after the suspect exposed himself to her.
In speaking with the complaintant/victim, Borne learned that she had a flat tire while traveling on I-16 East toward Savannah when she exited the off ramp at mile marker 116. The victim was assessing her vehicle when a tan or goldish color sedan pulled off the roadway in front of her call. BCSO reports that 'a white male exited and offered to assist in changing her tire and seemed to have a nice demeaner abut himself. The male explained that he had several tires at his residence which was only a short distance from where they were located.'
From the press release:
[The suspect] inquired if she wished to follow him to his home and check on a replacement tire. The victim did not feel comfortable and declined and stated she would check on a new tire on Monday. The complainant/victim explained as she got in her car and prepared to leave, the male, (ROBERT JAMES LANIER) got back out of the drivers seat of his car wearing only a shirt. She stated the male ran towards her car exposing his penis as he began to masturbate in front of her. The victim expressed her fear as she hastily fled the area from LANIER.
Corporal Borne discussed the case with Inv. Lt. Walter Deal who in turn called the victim and asked if she would search the GBI Sex Offender website and see if she could identify the person who exposed himself as being on the Bulloch or Candler County, Ga. list.
After a short time, the victim contacted Lt. Deal and advised that she has positively identified the person that exposed himself to her as ROBERT JAMES LANIER, who is currently on the Candler County, Ga. sex offender list. Inv Deal, Corporal Borne and other deputies confirmed the address of LANIER as being on Harper Road, Metter, Ga.
Deputies from Candler County S.O. assisted with locating LANIER at his home. After contacting LANIER and confirming that he and his vehicle matched the description provided by the victim, and the fact that the victim positively identified him from the sex offender list, LANIER was arrested and transported to the Bulloch County Jail.
Lanier has been charged with indecent exposure, a felony. He has multiple other convictions of INDECENT EXPOSURE both in Georgia and South Carolina. LANIER is being held in the Bulloch County Jail without bond.
According to the GBI's Sex Offender website, Lanier was convicted in 2008 for his 3rd (or more) indecent exposure charge.
In the press release, Sheriff Brown commended Corporal Jason Borne and Investigator Lt. Walter Deal for their diligent work in identifying and arresting this sex offender.
Sheriff Brown also cautioned all citizens to be alert and vigilant in observing your surroundings and people you have contact with. The attention to detail of the suspect and his vehicle in this case has lead to his arrest.
Anyone that may have information about this incident or any incident similar in nature is asked to contact Investigator Lt. Walter Deal at (912) 764-1788.