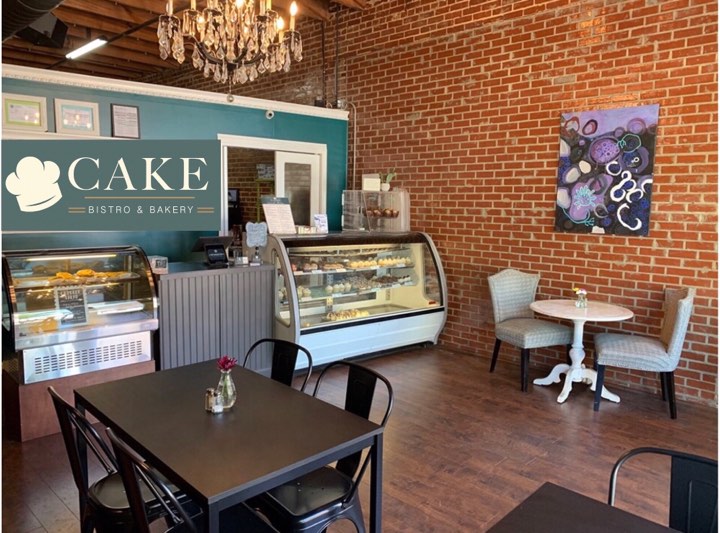 A well-known establishment notorious for delicious desserts in downtown Statesboro has added some new dazzle.

Sprinkled with a new design from the outside in, the locally owned Cake Bakery is now offering expanded breakfast options, a full lunch menu with weekly specials, and a new name – CAKE Bistro & Bakery. Owner Shannon Ward recently sat down with AllOnGeorgia to share some of the details on the upgrades and additions. 
The expanded roots come on seasoned soil. Ward has been making custom cakes since 2011 and opened the storefront in downtown Statesboro in 2014. Located just a block from Statesboro City Hall, CAKE previously shared space with Cool Beanz Espresso Bar and, as Ward put it, allowed both businesses to 'find their footing in Statesboro's culinary landscape.' In September 2019, CAKE debuted its noticeably new look with a more diversified menu. 
A few aesthetic tweaks – all done by local vendors – have had a measurable impact on the ambiance of the locale and CAKE Bistro & Bakery now offers seating for 24 with an additional 12 spots outside. But it's what they're cooking up in the kitchen that seals the deal.
For the longtime loyal customers, the beloved cupcakes, cannolis, and macarons are still available, as are the custom cakes – most of which are made by Shannon herself. The bistro also offers a variety of vegan, vegetarian, and gluten-free options and they will soon begin accepting Eagle Express in addition to their partnership with Mr. Delivery. By some standards, it may be the fact that the once daily specials are now available all week long so you can double, triple, and quadruple up on the deliciousness. 
A grand re-opening event is set for the week of September 23. It's an all week event, so customers can stop by anytime to taste new treats, pick up a dozen cupcakes, or dine-in for lunch.
Otherwise, CAKE Bistro & Bakery is open weekdays from 8:00 A.M. to 6:00 P.M. and 8:00 A.M. to 3:00 P.M. on Saturdays. 58 C East Main Street in Statesboro.
The website for CAKE has been revamped with all the latest details and an option to leave a review. Follow CAKE Bistro & Bakery on Facebook here to see updates on treats and sweets.