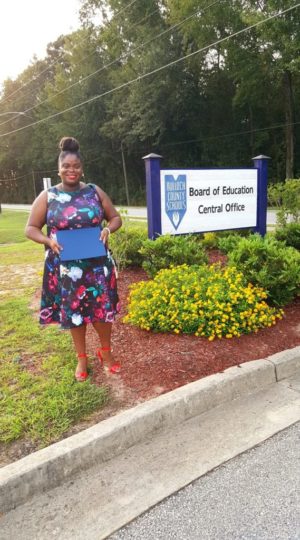 Marchelle Russell is two months into her 7th year of teaching – the second of which has been in Bulloch County. She is currently a 6th grade Social Studies teacher at Langston Chapel Middle School where she is also the cheerleading coach. 

Marchelle beams when she talks about why she loves her job. "Exposing our kids to things that some of them may not otherwise get to see is very rewarding. Looking at pictures, other visuals, having guest speakers, all of it is an experience that they may not get to have again. And I love learning about how a person…becomes a person. It's a big thing to me." 
This year, Russell is organizing the 'Global Get Together' funded in part by a $1,000 grant from the Bulloch Schools Foundation Grant. Inspired by the International Day at Mill Creek Park, Langston Chapel is partnering with Georgia Southern University to host an international night for students and families at the end of October. Clubs like the Japanese Club, the Arab Club, and a handful of others will be at the event dressed in traditional clothing and sharing history on the cultures. 
"This will be a night for all of our kids to feel like they belong," Russell said. "We're really hoping kids can be who they are and showcase it." 
As a partnership between the Social Studies and Language Arts departments, each hallway of the school will have a different theme related to the curriculum learned at each grade level, ranging from Latin America to Australia to Canada and correlating activities like storytelling, wax museum displays, reading programs, and photo booths. The Book Fair will be going on that evening, too, and it all compiles into one of the School Improvement Plan Goals for 2019–20: literacy. 
A number of restaurants have also agreed to donate food for international tastings from around the globe, including Nona Picci and Great Wall, as well as bites from mexican and American cuisines. The students will play an active role in the entire evening which is open to the public on October 29th at Langston Chapel Middle School. 
The hope is that most students will be able to attend because of the location and time (Plus, the homeroom with the most attendees will win a pizza party!) and that there will be a strong show of support from the community that Russell calls home.
Russell herself is a product of the Bulloch County School System and a graduate of Valdosta State University. She and her husband, Matthew, relocated back to Statesboro a few years ago and one of her toughest teachers as a young teen, Mrs. Evelyn Gamble-Hilton – is the one who hired her for her current position. Russell says she now sees why teachers like Hilton and Mrs. Teresa Phillips, both of whom influenced her greatly, handled things the way they did. "The experiences they gave me made me want to give back."
She teared up when talking about the drive behind her love of teaching: "I want to create the experiences I was given for my students. It isn't the accolades, it's seeing the students progress and I want to give them everything I have."