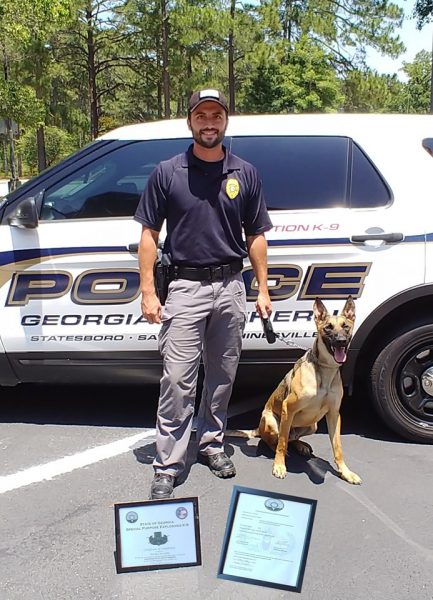 The Georgia Southern Office of Public Safety's newest K-9 recently received a ballistic vest as well as some medical related items from Protecting K-9 Heroes, a nonprofit organization dedicated to helping fund K-9 operations and reducing K-9 fatalities around the country.

Officer BJ McKellar has been paired with K-9 Rocky, a 21-month-old Belgian Malinois, who was certified in May. Rocky is an explosive detection K-9, and his main job is to search for explosive odor materials as well as weapons that use black powder.
"If Rocky and I are called out to a scene, we will immediately begin searching the area to establish a command post and safe evacuation area if need be," McKellar said. "Upon completing that sweep we begin searching the outer perimeter of the building or area we are called out to search. Rocky and I then move inside the building or area and do a thorough search. If there is a suspicious item found, Rocky will sniff the item. If he sits, that's an indicator that there are explosives or explosives materials inside."
Rocky's new medical equipment includes Narcan, which blocks the effects of opioids and reverses overdoses within two to five minutes. K-9s are often at risk of ingesting dangerous substances during drug busts. McKellar and Rocky participated in training done by a veterinarian on how to use the Narcan.
"My job is to simply be the guy holding the leash with this type of K-9," McKellar said. "Rocky is the one doing all the work. I can help guide him if I think he may have missed an area or I want him to check something again, but for the most part, he is running the show."
McKellar said he is excited to start this new partnership with Rocky, which will include more training with other items received in the donation from Protecting K-9 Heroes. He said his favorite part about being Rocky's handler is facing the challenges that come with a new position.
"I have never worked K-9 previously and neither has he," McKellar said. "There is a lot more work involved than I initially realized. It may seem from an outsider's point of view that you just walk a dog around, but there is way more involved."
People on campus may see Rocky out and about from time to time. When he's not in an emergency situation, he's usually riding on patrol with McKellar or resting.
"I will get him out and play some fetch throughout the day," McKellar said. "Other than that, Rocky is in the back and more than likely catching up on a nap. I like being able to learn and grow as a team with him and being able to create a new bond with him."
Information from Georgia Southern University