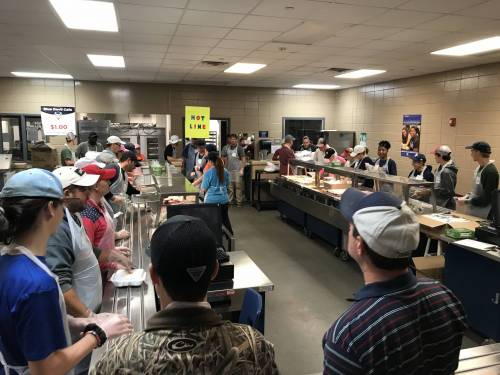 For many, a Thanksgiving meal is taken for granted, but financial challenges or other issues may mean sparse provisions for our friends and neighbors in the Statesboro, Bulloch and surrounding counties. 


A local effort, Feed the Boro (FTB), has helped make Thanksgiving a blessing for families and individuals in need for over 20 years.  Volunteers and contributions are always needed to make FTB a success year after year according to FTB Chair Don Poe.  
Feed the Boro will provide a traditional Thanksgiving meal to over 4,000 citizens in addition to public safety workers in Bulloch, Evans and Candler Counties who are missing a Thanksgiving meal due to work and that number is growing, he said.  They will also serve any visiting family hospitalized at EGRMC, along with nurses, doctors and staff working on Thanksgiving. 
"On Wednesday, November 27th, volunteers will begin deboning turkeys, plating desserts, taping up boxes and organizing the meal line. Volunteers will begin at 12:30 on Wednesday and work throughout the day", said Poe. "On Thursday, Volunteers will begin at 7 AM preparing the food lines and begin plating at 8 am and distributing food at 10am.  If you are in town, I encourage you to volunteer in some way. It is one of the most rewarding events I am involved in throughout the year." 
Again, this year, citizens will be able to come to SHS Cafeteria and eat a Thanksgiving meal, instead of having them delivered to their home.  This creates a "sense of community" for some that may be home alone. Meals will be served at SHS from 10:00am until 12 noon.  
 "Even though people are thrilled to get a free Thanksgiving meal delivered to them, many of citizens are alone with no family and would enjoy being with others to celebrate this special holiday", said Poe.  "This is why we are opening the SHS cafeteria again this year for citizens to dine in with others. Also, we want to remind citizens that anyone is eligible for a free meal. We do not place any financial or other restrictions on this meal.  If you need or want us to provide a Thanksgiving meal to you, a friend or family member, all you have to do is call."  
If you would like to help by volunteering at SHS on Wednesday or Thursday go to the Feed the Boro page on Facebook @feedtheboro to sign up. 
Another way the community can help is to sponsor a meal for an individual or a family.  For a contribution of $15 you can sponsor six meals. $25 – 10 meals, $100 – 40 meals, etc. It costs only $2.50 per meal to feed our community a hot meal on Thanksgiving. ​
You can give through the paypal link on @feedtheboro or mail your check written to: Feed the Boro, 701 Baytree Lane, Statesboro, Georgia 30458.  
"We want to especially thank Bi-Lo for once again stepping up this year as our Presenting Sponsor.", said Don Poe, FTB Chair.  "Local Bi-Lo Manager Tod Marsh and his staff have been very engaged in the planning for this year's event. Without the Presenting, Platinum sponsors and all of our corporate and individual sponsors this would not be possible." 
 With your help, this will be another great Thanksgiving for our community, providing many of our citizens with a warm, fulfilling meal but more importantly, hope, love and fellowship. 
Special thanks to all of this year's sponsors.  
Platinum sponsors: D & R Automotive, First United Methodist Church, J.C. Lewis Ford and Sega Golf,  
Gold sponsors: BlueSky Wallcoverings, Davis Marketing, Homestar Financial, Lori Grice Photography and Remax Eagle Creek Realty.   
Silver sponsors: Premier Dental, Chicken Salad Chick and Queensborough National Bank. 
Bronze Sponsors: The Hunter Group Century 21, ERA Hirsch Realty, Statesboro Oral Surgery, Tippins Polk Construction, and StateFarm Insurance Ginger Larabee.