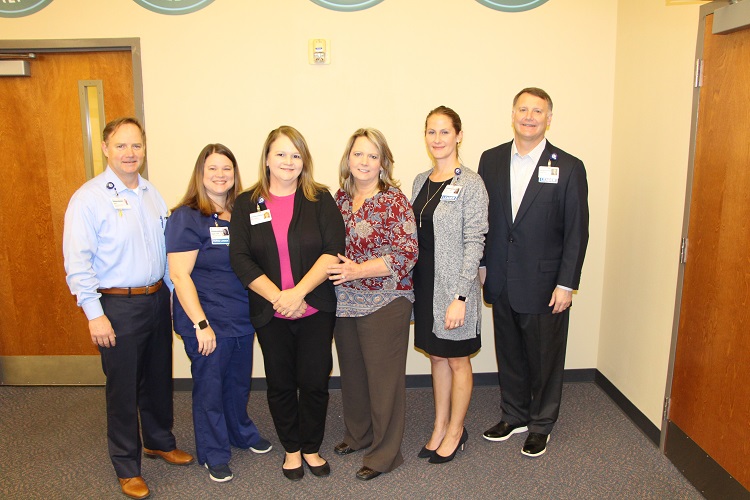 East Georgia Regional Medical Center recently honored three outstanding employees for the 2019 year: Clinical Manager of the Year was awarded to Burke Basquin, BS, Pharm D, Director of Pharmacy; Non-Clinical Manager of the Year was awarded to Erin Spillman, Director of Marketing; and Employee of the Year was awarded to Michelle Woods, Executive Assistant in Administration.


Clinical Leader of the Year: Burke Basquin, BS, Pharm D, has been with East Georgia Regional Medical Center for twenty years, and leads the hospital's Pharmacy Department. When asked what makes Burke exceptional at his job, his peers wrote: "Burke has always demonstrated a high level of commitment to his team and to the hospital, helping where needed and working independently and tirelessly to not just complete his job, but to advance his team and the hospital. He leads by example and always gives 100% to make sure our patients get the best care. Burke is calm, disciplined, and effective in everything he does. As a leader, his operational skills are exceptional, being customer focused, financially aware, organizationally aware and entrepreneurial." Burke has been awarded Director of the Year as well as Rookie of the Year in years past at EGRMC. He is a member and leader of multiple committees including EOC (Environment of Care), Hazardous Materials, P&T, Antimicrobial Stewardship, Infection Control, Quality, and Critical Care committees. He is also an Elder in the First Presbyterian Church in Statesboro.
Non-Clinical Leader of the Year: Erin Spillman, Director of Marketing, has been with East Georgia Regional Medical Center since 2017. Her co-workers wrote in her nomination for this award: "In the two years since she has joined EGRMC, Erin has created a positive energy that resonates throughout our entire team. She walks into a room and lights it up. Erin does an excellent job of telling our story within the community and ensuring EGRMC is well represented at community events. Her positivity and willingness to pitch in has been a tremendous asset to our team; if you ask anyone, even employees and volunteers that have been here for years, I am sure they will tell you that she has and is changing the culture of our organization for the better." Erin leads or participates in multiple hospital committees including the Employee Experience Team, Patient Family Advisory Council, Facility Compliance, and EOC Safety Management Committee. In the community, she serves on the board for the Statesboro Bulloch County Breast Cancer Foundation, is a mentor for the Georgia REACH Scholars program for Bulloch County Schools, leads the hospital's team for Relay for Life (American Cancer Society), and is a part of many other fundraising and charity events.
Employee of the Year: Michelle Woods, Executive Assistant in Administration, has been employed at East Georgia Regional Medical Center for 26 years. She was honored with Employee of the Month in June of this year, and was chosen as the Employee of the Year for 2019. She has also been honored in the past with the Impact Award at EGRMC. Her colleagues nominated her for this honor by noting "Michelle comes to work EVERY day with a smile on her face, and has been the 'constant' of the administrative suite. She is always supporting, always managing up, always communicating effectively, and always trying to make someone's day brighter or better. Michelle is a people person, and always willing to help everyone. She demonstrates compassion to all employees and visitors in our facility. Michelle always smiles, talks kindly, never says "no" to any task, and accomplishes any task she undertakes with perfection. In the last year, Michelle assumed the additional responsibility of being the facility's Contract Administrator. This role requires significant investments of time and training, not to mention ongoing diligence and meticulous organization, all of which she handles in stride. She manages her workload and the operations of the administrative office in a manner that demonstrates unparalleled personal and professional commitment and resiliency." Michelle is very active in the community, supporting Relay for Life and the American Cancer Society, volunteering at the Soup Kitchen and serving meals with her family on Christmas Day to the less fortunate, and also volunteering for Portal Middle High School's Athletic Booster Club and supporting cheerleading, softball, and the swim team.
"We are proud to have Michelle, Erin, and Burke recognized as the 2019 Champions of the Year for East Georgia Regional Medical Center," said Stephen Pennington, CEO of the hospital. "All three of these individuals inspire excellence, have a sincere dedication to their profession and to this hospital, and we are honored to have them on our team."

Left to right – Chief Quality Officer Beth Simmons, Chief Financial Officer Eric Roach, Chief Executive Officer Stephen Pennington, Clinical Manager of the Year Burke Basquin, Chief Operating Officer Erin Smith, and Chief Nursing Officer Marie Burdett

Left to right – Chief Financial Officer Eric Roach, Chief Quality Officer Beth Simmons, Chief Operating Officer Erin Smith, Non-Clinical Manager of the Year Erin Spillman, Chief Executive Officer Stephen Pennington, and Chief Nursing Officer Marie Burdett