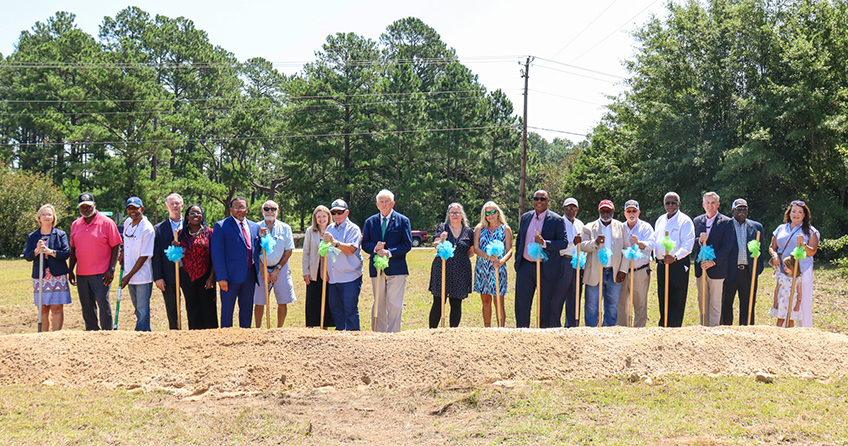 During a ceremony on Tuesday, Statesboro Food Bank broke ground for a new facility at the triangle bounded by Miller and West Parrish Streets and West Northside Drive.


The new facility is planned to be 12,000 square feet, providing greater access to food and other essential resources for the community.
In 2021, the City of Statesboro and Bulloch County Board of Commissioners each committed $500,000 of American Rescue Plan Act (ARPA) funds allocated by the federal government for the purchase of land and construction of a new food bank facility.
The City of Statesboro says a few highlights of the new facility include:
● The Warehouse: With 6500 square feet, the warehouse will serve as the heart of the community pantry, providing ample space for storage, meal box preparation, and crisis management inventory. It will accommodate service for USDA programs and emergency services, with generous contributions from grocery stores, churches, individuals and purchases from Second Harvest.
● Essential Facilities: The new building will feature two walk-in freezers, two walk-in coolers, shelving for canned goods, a dry storage room, supply storage areas, a generator, showers, a washer/dryer for crisis workers, and both drive-through and walk-up windows. An office for the Pantry Manager and a workroom for volunteers will enable efficient operations.
● The Public Area: Spanning 5500 square feet, the public area will include a reception area for welcoming clients, two versatile classrooms, an enclosed courtyard, offices for client services, program coordination, marketing/development, and administration, a commercial kitchen, a dining hall with seating for up to 125 individuals, restrooms, and storage space.
Anyone interested in donating to help build the new facility can do so at https://givebutter.com/foodbankbuildingfund or text "HungerHurts" to 53555. For cash or check donations, mail a check to the Food Bank at PO Box 543, Statesboro, GA 30459.
Visit Statesboro Food Bank on Facebook HERE for updates.