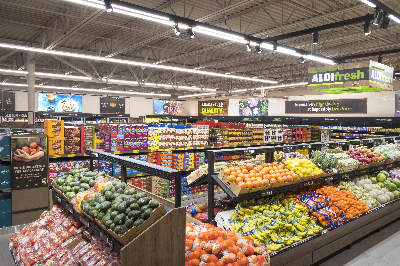 10 days to go.

The Statesboro Aldi will open as planned on August 29th, according to the company. An Official Grand Opening and Ribbon-Cutting Ceremony is also planned for the 29th at 8:45 a.m. with the opportunity to win in the Golden Ticket giveaway, Produce for a Year sweepstakes, and product sampling.
The Statesboro location is the first of three stores to open in the Savannah metropolitan
area in 2019, with stores in Pooler and Savannah opening later this fall. ALDI will hire approximately 50 new employees for the Statesboro, Pooler and Savannah stores. The Statesboro store will be open daily from 9 a.m. to 8 p.m.
The new Statesboro ALDI store layout will feature expansive refrigeration space to accommodate the fresh, healthy and convenient products people want most. ALDI recently expanded its product offerings, making 20% of its total selection new. This expansion is part of the company's aggressive national growth and remodel plan, and it includes a 40% increase in its fresh food selection, with many organic, convenient and easy-to-prepare options. ALDI stores also feature open ceilings, natural lighting and environmentally friendly building materials. The expansion is also part of $3.4 billion investment to reach 2,500 stores across the country by 2022.
ALDI is adding 25,000 new jobs in stores, warehouses and offices across the country by the end of 2022. ALDI was named to the Forbes list of "America's Best Large Employers" five years in a row and was recognized as a 2019 and 2018 Indeed Best Places to Work: Compensation and Benefits. As an employer of choice, ALDI is consistently looking to hire the best and brightest talent to join its team.
The ribbon cutting will take place at the new store –270 Henry Blvd. Statesboro, GA 30458