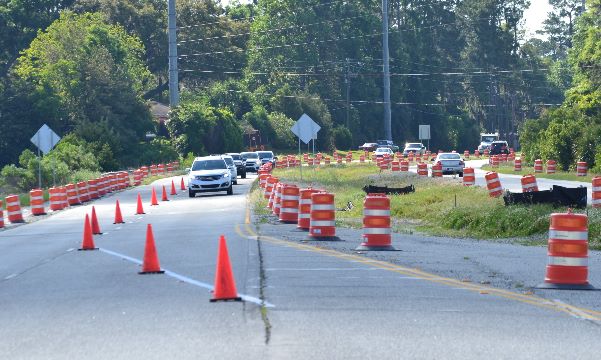 Georgia Department of Transportation continues to improve highway infrastructure throughout Southeast Georgia. As a result, work on construction and maintenance projects will continue this week.


All work subject to change due to weather or other factors. Motorists are cautioned to reduce their speed while traveling through work zones, pay attention and watch for workers.
Lane closures are listed below by interstates and counties.
Interstate 95
I-95 from Exit 87 in Bryan County to Exit 67 in Liberty County
Double Lane Closure to place preformed tape on Bridges
Monday through Sunday 7 pm to 7 am
Brantley County
SR 23/US 301 from Nahunta to Wayne County line
Single Lane Closure for Resurfacing
Monday through Friday 7 am to 7 pm
Bryan County
SR 144-Widening Project                  
Rabbit Hill Road Closure
Detour via Rabbit Hill Rd. to Port Royal Road
Belfast Keller Road at I-95 New Interchange
Bridge closed for replacement
I-95 new on-ramps open to traffic
Belfast Keller Road – eastside to I-95 NB westside to I-95 SB
Bulloch County
CR 584 Nevils Groveland
Single Lane closure to remove the Steel plates at bent joints 1 and 3
Monday 9 am to 3 pm
Glynn County
US 17/SR 25 at Sidney Lanier Bridge
Single lane closure for bridge rehab work
Monday – Sunday 6 am to 6 pm
SR 25 Spur/Golden Isles Parkway
Single lane closure for roadway shoulder work
Monday – Thursday 9 a.m. until 3 p.m.
SR 27 from Bay St./Newcastle St. Split extending to US 17/SR 25
Single lane closure for resurfacing
Monday through Friday 8:30 am until Dark on Bay St.
Monday through Friday 8:30 am until 3 pm on Fourth St.
Jeff Davis County
SR 19 RR Overpass
Detour via SR 135 and SR 135 Conn.
Anticipated completion 2020
Screven County
SR 73 Rocky Ford Rd. to Bascom Rd.
Single Lane Closure for Intersection improvements
Monday through Saturday 7 am to 7 pm February 2nd Through February 29th
Ware County
SR 158 between Hutch Lane and Barnes Road
Road closure for three bridges to be replaced
anticipated open to traffic spring/summer 2020
US 84/SR 38 on bridge over Satilla River at Pierce County line
Lane closures for bridge study in the replacement bridge project
Monday – Sunday 9 a.m. until dark