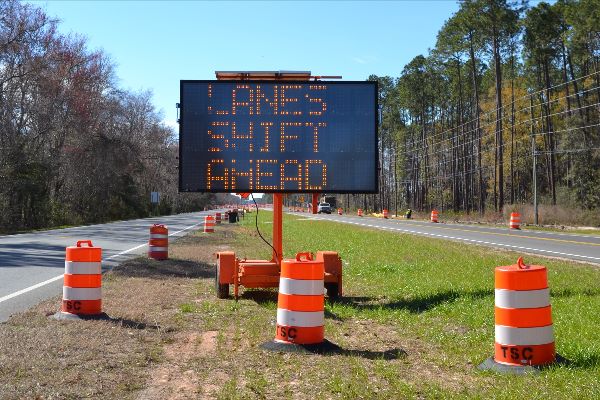 Georgia DOT continues essential road work throughout Southeast Georgia. As a result, work on construction and maintenance projects will continue Saturday, October 17 through Friday, October 23.

All work subject to change due to weather or other factors. Motorists are cautioned to reduce their speed while traveling through work zones, pay attention and watch for workers
Lane closures are listed below by interstates and counties.
Interstate 95
I-95 Bridge Rehab Projects in Camden County
Exit 3 interchange bridges and Satilla River Bridges north of Exit 14
Mon-Thurs 7pm-7am single LC/10pm-5am double LC
Weekend LC remain in place 9pm, Fri through 5am, Mon
Additional LC on SR 40/East King Ave & Boone St at Exit 3
I-95 Interchange Lighting Upgrades in Camden County
I-95 at Exit 1/St. Marys Road
Lane closures Monday – Saturday 7pm until 7 am
I-95 @ Belfast Keller Rd. in Bryan County
Double Lane Closure for Bridge Work
Monday through Sunday 7 pm until 6 am
Interstate 16
I-16 between MP 108 thru MP 99
Single lane closures for Bridge Maintenance
7 pm to 7 am daily
I-16 East Bound CR 404
Lane shift to Repaint Bridge
Monday through Sunday 9 am until 3 pm
I-16 West Bound under SR 129
Single Lane Closure to repaint Bridge
Monday through Sunday 7 am until 7 am
I-16 @ Exit 148/Old River Road in Effingham Co.
Lane closures Mon.-Fri. 9 am until 4 pm
Bridge work at interchange
Bryan County
SR 204 at CSX railroad crossing closure
Near east intersection of Arden Loop Circle near Ellabell
Tuesday 9 am until 5 pm
Traffic detoured via Arden Loop Circle
Chatham County
CR 787 Islands Expressway Elba Island rd. to Oatland Island rd.
Double lane closure to Mobilize equipment and materials
Monday through Saturday 9 am until 3 pm.
US 17/SR 25 North End of Ogeechee River to I-516 Overpass
Single Lane Closure for Milling Operation
Monday through Sunday 7 pm until 6 am
SR 17 (Jimmy Deloach Parkway)
Daily lane closures between I-95 and SR 21
Vegetation removal on Right-of-Way
Effingham County
SR 21 North of Jacks Creek to North of Dewitt Rd.
Single Lane Closure for Resurfacing
Monday through Sunday 7 pm until 6 am
Evans County
SR 169 Closed @ Bull Creek Bridge replacement project
Located between Clyde & Edward Tucker Rd. & Louis Kennedy Rd.
Traffic detoured via SR 144 and US 301(October 31st)
SR 169 Closed @ Cedar Creek Bridge replacement project
Located between Jim Sapp Rd & Carters Bridge Rd
Traffic detoured via SR 129, US 280 and SR 292
Glynn County
US 17/SR 25 at Sidney Lanier Bridge
Single Lane Closure for Bridge Rehab work
Monday through Sunday 6 am to 6 pm
SR 25 Spur/Torras Causeway
From US 17 and extending to Kings Way
Nightly lane closures 8 p.m. until 6 a.m.
Resurfacing, bridge joint work and bike safety enhancement
Bridge Rehabilitation at various locations in Glynn County
Single Lane Closure on US 341/SR 27 and US 301/SR 23
Monday through Thursday 6 pm to 6 am
Continuous 9pm Friday through 6 am Monday
Screven County
SR 21 HWY 301
Single Lane Closure for Resurfacing project
Monday through Sunday 6 am until 6 am (January 31st)
Tattnall County
Hillview Road closure in Collins
Bridge replacement project over Cedar Creek
Traffic detoured via Manassas St, SR 23 & Cedar Creek Rd
Telfair County
US341/SR27 North of Jim Hammock Dr. to South of Haley Dr.
Single lane closure for resurfacing
Monday through Friday 7 am to 7 pm
SR 149 Pavement Preservation MP 0-17
Daily lane closures for paving
Wayne County
Bridge Rehabilitation at various locations in Wayne County
Single Lane Closure on US 341/SR 27 and US 301/SR 23
Monday through Thursday 6 pm to 6 am
Friday through Monday 9 pm until 6 am
US 341/SR 27 beginning at Bamboo street and extending to Cherry Street
Single Lane Closure for Pedestrian Crossing upgrades and installation of intersection video detection system
Monday through Friday 8:30 am until 3:30 pm