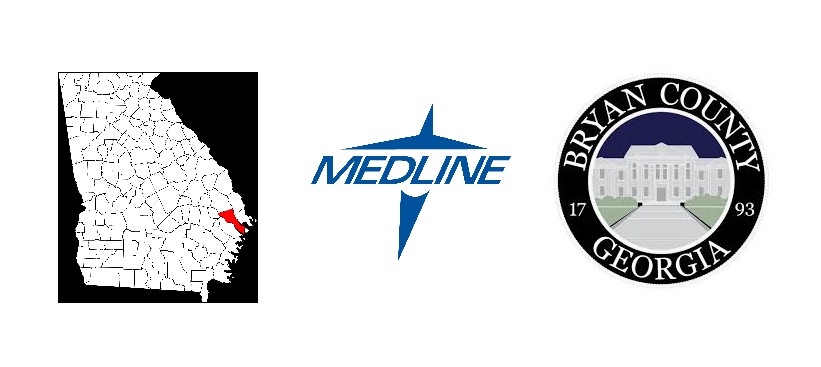 The largest privately held manufacturer and distributor or medical supplies is building a new distribution center in Bryan County.

Governor Brian Kemp made the announcement about Medline Industries, Inc's newest location in the state on Wednesday. The company plans to invest $70 million in the new facility in Richmond Hill that will create 150 new jobs with capacity for more than 600 workers as the company grows.
"We are excited that this innovative, family-owned company chose to expand their operations in Bryan County," Governor Kemp said in a news release. "Georgia's coast is an ideal location for companies like Medline who are looking for a readily available workforce as well as access to global markets through the Port of Savannah."
Headquartered in Northfield, Illinois, Medline is a healthcare company that manufactures and distributes more than 550,000 products with more than 26,000 employees worldwide. The company currently operates two facilities in Georgia. Its distribution center in McDonough and manufacturing plant in Lithia Springs together employ approximately 800 people.
"When we began looking for a new distribution center location near a deepwater port, the Port of Savannah and the Richmond Hill area quickly rose to the top of the list," said Bill Abington, Executive Vice President of Global Operations at Medline. "Georgia has been a welcoming state to grow our business and attract a best-in-class workforce. We are proud to continue our expansion in the Peach State and be even more connected to our customers in coastal Georgia."
The new one-million-square-foot facility will be built in Belfast Commerce Park, which is a Georgia Ready for Accelerated Development (GRAD) site. The expected completion date is 2021. Careers at the facility will primarily focus on supply chain support, warehouse operations – including supervisors and managers – and other branch administration. Individuals who are interested in applying for a position may do so online.
"The city of Richmond Hill is pleased to welcome Medline to our community," said Richmond Hill Mayor Russ Carpenter. "The location of Medline's new state-of-the-art facility along Interstate 95 will allow it to serve as a landmark for our community as the area around the new interchange continues to develop into a vibrant addition to Richmond Hill, and we look forward to the jobs and capital investment that will be created as a result of this project."
"We are thrilled Medline, an industry leader in medical supplies manufacturing and distribution, will be joining our existing industry base in Bryan County," Development Authority of Bryan County Chairman Noah Covington said in a news release. "Medline's selection of the Belfast Commerce Park is the result of a team effort, and I want to thank all of our state and local partners, specifically the city of Richmond Hill, Raydient Places + Properties, and Bryan County, for helping make this project become a reality."
Georgia Department of Economic Development (GDEcD) Director of Automotive, Aerospace, and Advanced Manufacturing Ashley Varnum represented the Global Commerce division in partnership with the Development Authority of Bryan County, Georgia Electric Membership Corporation, and Georgia Ports Authority.
"We are excited that Medline is expanding their footprint in Bryan County," said GDEcD Commissioner Pat Wilson. "The GRAD site they chose in Richmond Hill is ideal as it offers Medline access to Interstate 95 and the deep water Port of Savannah. I am confident Medline will succeed in Bryan County as they expand operations here in Georgia to meet the needs of their customers across the Southeast."