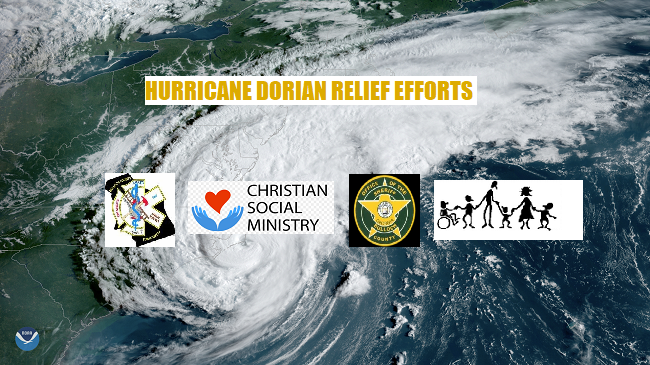 While Bulloch County was spared from the wrath of Hurricane Dorian, other areas were not so blessed.

A number of Bulloch County organizations have partnered to start a drive to collect and distribute relief supplies to those impacted by Hurricane Dorian.
Christian Social Ministries, Bulloch County Emergency Management, the Bulloch County Sheriff's Office, and Fostering Bulloch are spearheading the charge. Specific items the organizations and agencies are requesting include:
Cleaning Supplies
Diapers
Wipes
Hygiene products
Non-perishable food items
Cash cards from retailers for distribution clearly indicating "Relief Hurricane Dorian"
It is specifically requested that no used clothing be donated.
A number of drop points are available around the community, including"
Christian Social Ministries on East Parrish and College Plaza, Statesboro, GA
Fostering Bulloch at N. Walnut and Elm Street, Statesboro, GA
Bulloch County Sheriff's Office or Bulloch County Emergency Ops Center, 301 North, Statesboro, GA.
Synovus Bank Statesboro
Morris Bank Statesboro
Weichert Realtors, Bypass at Northside Drive
If you would prefer to offer financial donations, a number of organizations are accepting gifts online. The Salvation Army is already on the ground in The Bahamas and on the Carolina Coast and the organization directs 100% of the funds to victims impacted by the disaster. Your donation may be used to provide food and drinks, cleaning supplies and other essential commodities, financial assistance to disaster survivors, long-term recovery assistance programs including repair and reconstruction projects, or to support disaster relief workers serving in impacted communities. The Salvation Army has served 6,000 meals, 8,100 drinks and 6,400 snacks to first responders and evacuees in 11 locations across Georgia located in Savannah, Augusta, Macon, Columbus, Douglas, and Waycross.
As of Friday morning, wind, storm surge, rainfall, and the threat of tornados continue as a Hurricane Warning remains in effect for portions of the North Carolina coast. In The Bahamas, relief organizations are working to transport disaster victims to shelters on other islands.