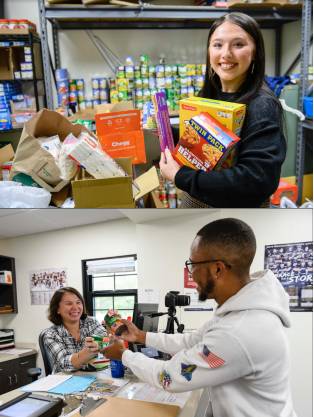 Georgia Southern University is touting a successful canned food drive that restocked the shelves of on-campus food banks and dismissed a number of parking citations for those who donated.

Earlier this month, students were asked to donate canned and boxed goods in exchange for 'amnesty' on the oldest fine on their accounts – specifically parking fines.
The university reports that the University Parking and Transportation Services collected more than 6,000 pounds of canned and boxed goods during the two day collection period and dismissed $20,000 in parking citations.
"This was a hugely successful event, and I appreciate the efforts of the entire Parking Department, as well as numerous other departments on the Statesboro and Armstrong campuses," Derrick Davis, director of Parking and Transportation Services, said in a news release. "We are grateful to be able to help provide assistance to Eagle community members in need."
Georgia Southern said 705 individuals – including students, faculty, staff, and citizens – in Statesboro and Savannah donated 10 or more nonperishable food items to meet the requirement for dismissal.
Permit and parking violations range in fine amounts of $10 to $50, depending on the offense – though parking in a handicap spot on more than one occasion will top out with a $100 fine.
The items collected were donated to on-campus food banks such as the Captain's Cupboard Food Pantry, an emergency food program extended to Georgia Southern students, faculty and staff on the Armstrong Campus. Representatives from various departments were present during the event to assist in collecting donations.