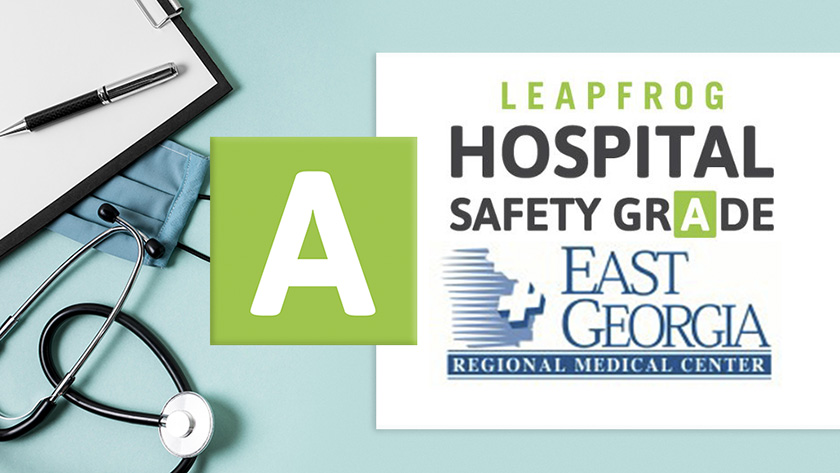 The Leapfrog Group, a national nonprofit watchdog organization that advances patient safety in hospitals, recently released the fall 2022 results. This release marks the 10th anniversary of the Leapfrog Hospital Safety Grade, which assigns a letter grade to nearly 3,000 U.S. general hospitals based on how well they protect patients from preventable medical errors, accidents, injuries, and infections. An analysis by The Leapfrog Group of data across the Hospital Safety Grade's history suggests improvement in patient safety over time.

East Georgia Regional Medical Center (EGRMC) received an "A" Leapfrog Hospital Safety Grade for fall 2022.
This national distinction recognizes East Georgia Regional Medical Center's achievements in protecting patients from harm and error in the hospital.
The Leapfrog Hospital Safety Grade uses more than 30 national performance measures from the Centers for Medicare & Medicaid Services (CMS), the Leapfrog Hospital Survey and information from other supplemental data sources. Taken together, those performance measures produce a single letter grade representing a hospital's overall performance in keeping patients safe from preventable harm and medical errors. The grading system is peer-reviewed, fully transparent and free to the public. Grades are updated twice annually, in the fall and spring.
"Never in history have we seen across-the-board improvement in patient safety until this last decade, coinciding with the history of the Hospital Safety Grade," said Leah Binder, president and CEO of The Leapfrog Group. "We salute hospitals for this milestone and encourage them to accelerate their hard work saving patient lives. For a long time, the health care community tried to improve safety, but progress stalled. The big difference over this decade is that for the first time, we publicly reported each hospital's record on patient safety, and that galvanized the kind of change we all hoped for. It's not enough change, but we are on the right track."
To see East Georgia Regional Medical Center's full grade details and to access patient tips for staying safe in the hospital, visit HospitalSafetyGrade.org and follow The Leapfrog Group on Twitter and Facebook.
---
About The Leapfrog Group
Founded in 2000 by large employers and other purchasers, The Leapfrog Group is a national nonprofit organization driving a movement for giant leaps forward in the quality and safety of American health care. The flagship Leapfrog Hospital Survey and new Leapfrog Ambulatory Surgery Center (ASC) Survey collect and transparently report hospital and ASC performance, empowering purchasers to find the highest-value care and giving consumers the lifesaving information they need to make informed decisions. The Leapfrog Hospital Safety Grade, Leapfrog's other main initiative, assigns letter grades to hospitals based on their record of patient safety, helping consumers protect themselves and their families from errors, injuries, accidents, and infections.