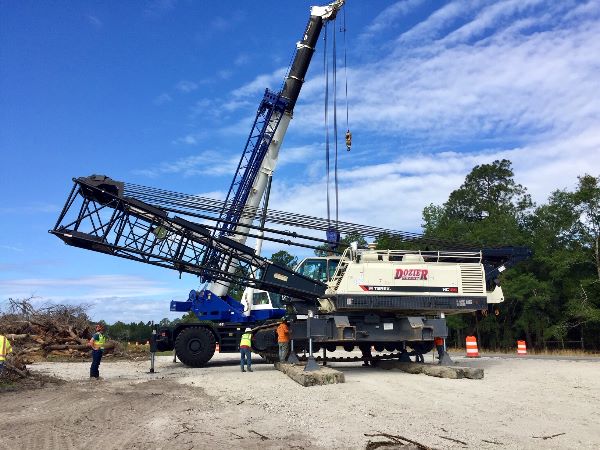 The first crane arrived on Monday, May 18, 2020, for use in the construction of the 16@95 Improvement Projects. The 16@95 Improvement Projects will improve traffic flow and enhance safety along I-16 and I-95, one of Georgia's busiest freight corridors as well as the gateway to Georgia's growing port in Savannah. The projects are part of the Georgia Department of Transportation's (Georgia DOT) Major Mobility Investment Program (MMIP).

This crane will be used for the installation of deep pilings for the foundation of the two new bridges that will connect I-95 southbound to I-16 eastbound and I-16 westbound to I-95 southbound. Both bridges will be elevated on piers to allow passage over I-95 and I-16.
The arrival of the crane and other major machinery set the stage for the beginning of heavy construction activities. The crane is in the northwest quadrant of the I-16/I-95 Interchange to set the deep foundations, or piles, which are required to provide the structural support necessary for the new bridge structures. The pre-cast concrete piles are set in place vertically by the crane and then driven deep into the ground. Installation of test piles is scheduled to begin next week. The crane can manage up to 165 tons of weight, which is equivalent to two space shuttles.
About the Projects
The 16@95 Improvement Projects will provide infrastructure enhancements by widening the I-16 mainline corridor from two lanes to three lanes in each direction. Six bridges will be reconstructed, four bridges will be replaced, and three new bridges will be constructed. Georgia DOT's construction partners will replace two existing loop ramps within the I-16/I-95 Interchange with innovative turbine configuration system-to-system ramps. The projects began construction in early 2020 and are anticipated to open to traffic in 2022.
To learn more about the projects and sign-up for updates, please visit the project website at http://www.dot.ga.gov/BS/Projects/SpecialProjects/1695Improvement.
About the MMIP
The MMIP is an ambitious, monumental program and first of its kind in the country. The statewide program will create additional capacity, improve freight movement, provide operational improvements and efficiencies, enhance safety, offer more reliable trip times, and decrease travel times.