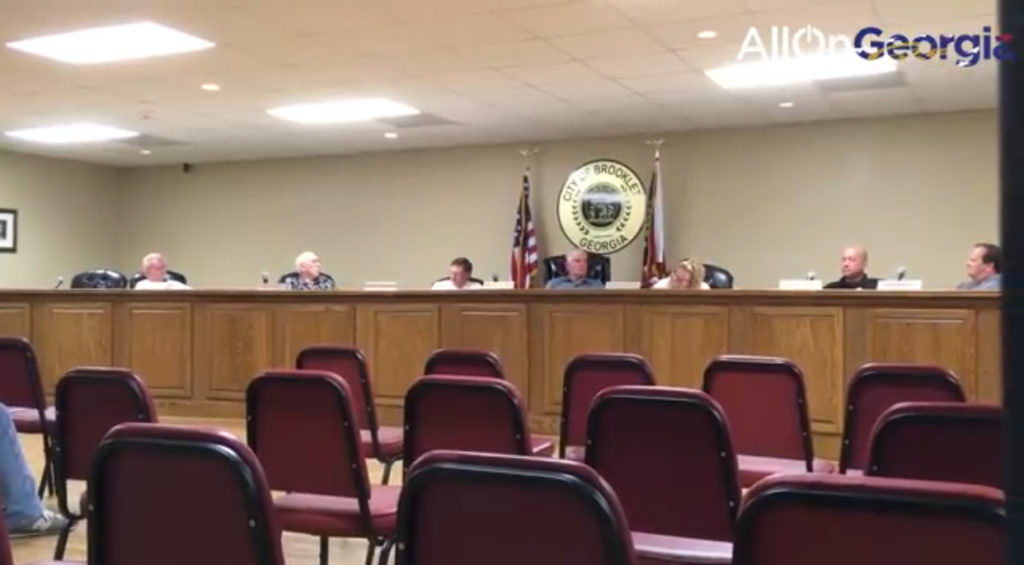 The following article is Part 8 of an investigative series by AllOnGeorgia into the Brooklet Police Department under the authority of Former Police Chief Doug Meyer (also known as Max Meyer & Clifford Meyer). The series looks into Internal Affairs investigation reports, a series of body camera files, and details over a dozen incidents during Meyer's tenure in which citizens allege harassment, retaliation, and false imprisonment by Meyer and a few of his officers. All documents contained in the article below were obtained by way of an Open Records Request filed on May 29, 2018.


Part 1 — Fmr Chief in Brooklet acknowledged citing business owner for speaking out against PD
Part 2 — VIDEO: Fmr. Brooklet Chief to Motorist: 'I'm going to work to get you fired' during speeding-related traffic stop
Part 3 — VIDEO: Brooklet PD secured warrant day after man filed complaint about traffic stop
Part 4– Documents show Brooklet Council teetered on officer discipline despite findings of wrongdoing
Part 5 – Brooklet Chief Retroactively Issued Citation to Motorist after POST complaint filed
Part 6 – Body Camera Shows Officer Lied to Motorist About Radar Accuracy Check
Part 7 – Fmr Brooklet Officers Under Investigation with POST, Records Indicate Investigations in Past
---
In a response to an Open Records Request filed by AllOnGeorgia, the City of Brooklet says it is not in possession of critical documents because former Police Chief Doug Meyer was the custodian of the files and his resignation has left the city "unable to locate" some of the requested documents..
AllOnGeorgia filed an Open Records Request on June 4, 2018 requesting any and all documentation related to the sale of items seized by the Brooklet Police Department as well as a follow-up request on complaints filed against the PD. You can read the full Open Records Request below:
Open Records Request - Brooklet PD 06.04.18 (1)

City Administrator Angela Wirth sent the following response on June 6, 2018 with regard to item No 1., requesting complaints filed by citizens, motorists, and others.
Response to Jessica-Open Records Request

Items 2-4, pertaining to the sale of seized property, also yielded minimal documentation. While the paperwork indicates the number of guns sold, the sign-off by the judge, the newspaper advertisement, and the cancelled, check, no bid information was provided and the 'winner' of the top bid was the Mayor of Brooklet, William Hendrix.
Brooklet PD Seizure docs 06.06.18

The check image is below.
The City Charter does not expressly prohibit the Mayor from bidding on – or being awarded – any city property in the Code of Ethics (Section 3), but Section 3-4 does read that "No city official shall use such position to secure special privileges or exemptions for himself or herself or others…"
Regardless of whether or not the actual award is a conflict of interest, no documentation exists with the City of Brooklet on others who submitted a bid. The City also failed to notate whether or not all those who submitted a bid have/had a Federal Firearms License (FFL), as required by the advertisement in the newspaper. Given the jurisdiction of FFL's, the lack of documentation is both a state and federal issue.
Note: Internet searches revealed that Hendrix Gun & Pawn in Brooklet is a federal firearms dealer, but the check was paid from Hendrix's personal checking account.
The missing information on account of Meyer's abrupt retirement comes as no surprise. AllOnGeorgia, in previous articles, alluded to the fact that documents had gone missing since the departure of Doug Meyer considering that a series of videos and documentation related to the police department were unaccounted for after considerable searching for an Open Records Request.
When pressed on whether or not attempts to recoup the documents from Meyer had been made, the City of Brooklet did not offer a response.
Reportedly, much of the police department software and information was hosted on Meyer's personal computer, which was taken with him when he left. At the end of the March 2018 council meeting, the Brooklet City Council* went into Executive Session to discuss a number of issues. When they returned from Executive Session, council member Randy Newman announced that the City would be purchasing a new computer server for the Police Department. Purchases such as those are not permissible for discussion in Executive Session and the discussion and the decision are violations of the Georgia Open Meetings Act.
*Councilman Greg Schlierf was not present at the March 15, 2018 council meeting.