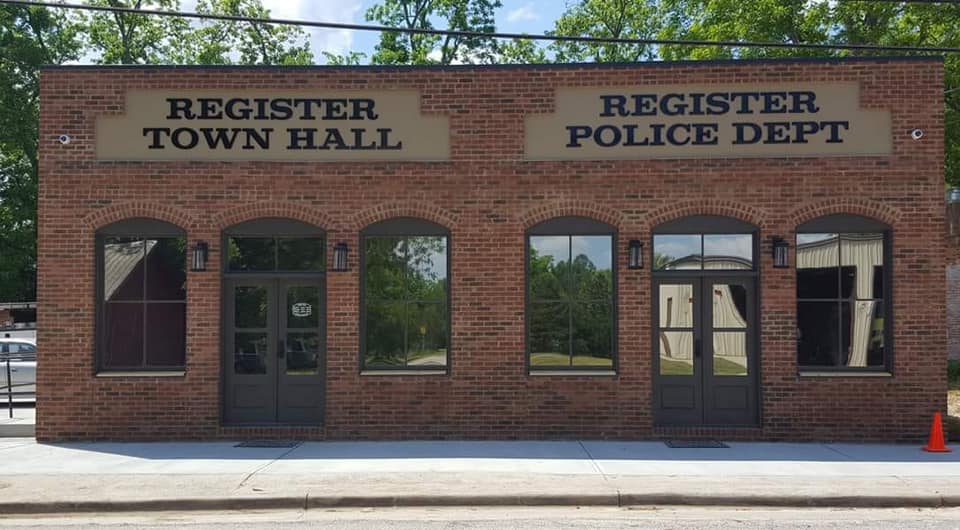 In a standing-room-only town council meeting Thursday evening at the Town Hall on Foster Street in Register, council members and the mayor met with citizens – and two former mayors of Register – to discuss solutions for a perceived deficit.


Those in attendance made it clear they were present for explanations and forthcoming initiatives – and to oppose new taxes. Both the mayor and the council explained early on that the shortfalls stem from astronomical one-time expenses like payroll fines and fees ($20,000) and accrued interest and fees from add-on's that should have been paid to the State of Georgia ($38,000). Both of those debts have been satisfied in full and no longer cripple the town's ability to apply for grants and other financial assistance.
Following those explanations, the Mayor proposed to a quorum council:
Reducing all town employee salaries by $2.00 per hour
Reducing the police force to 2.5 officers (one part time)
Requiring patrol cars to remain in Register town limits except for official law enforcement business (i.e. prisoner transport, etc.) Currently, patrol officers can take vehicles home
The Mayor stressed that as long as he is governing the town, there will be no new taxes and no intervention from the county.
He told the citizens of Register, "It's not the time to rehash the past. We want to try to do better and talk about today and tomorrow. Not the past. But all of the decisions should be the town people, not the mayor and the council. Either way, the next 60-90 days will tell us where we need to be."
The town is currently in the middle of a third-party audit conducted by Richard Deal. Deal has conducted the audits for Register for the last several years.
What will become of the police force and how Register will generate revenue for operating costs is still to be determined, but the mayor and the council will reconvene to discuss further at the next meeting.
No other official business occurred at the meeting. Register town council meetings are on the second Thursday of every month, unless otherwise specially called.